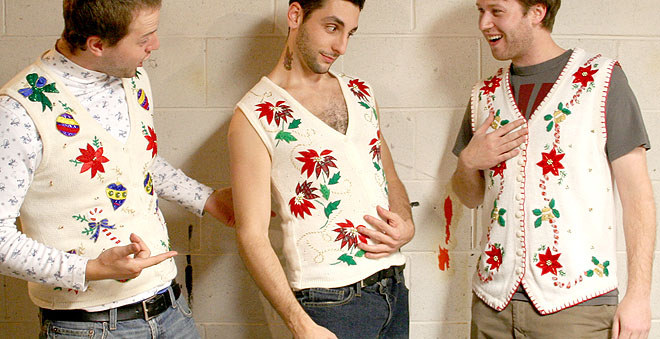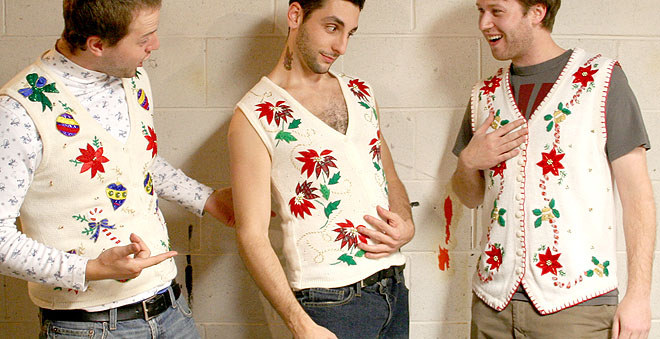 — Friday December 16th, 2016 —
Brooklyn Poetry Night
240 Flatbush Avenue at Bleachers Sports Bar and Grill
Time: 7pm
FREE, Suggested Donation
Start your weekend with an impactful spoken word session featuring a number of dope poets and artists.
Natural Moms Night Out
1080 Fulton Street at Ancestral Strands Studio
Time: 7pm – 9pm
Price: $5
Join other natural moms at this event and chat about our life, hair experiences, and natural hair products, then coming up with solutions to this never ending hair issue!
Freddy's 2016 Ugly Sweater Holiday Jam
627 Fifth Avenue at Freddy's Bar
Time: 8pm
FREE
Grab your ugliest holiday sweater, dance all night long and make sure to grab a drink from the bar.
Dylan and Neil Save Christmas
367 Bedford Avenue at The Annoyance Theater and Bar
Time: 8pm
Price: $10
See how two friends come together to save Christmas after President-elect Donald Trump threatens to cancels it.
CEG Presents: Boy Band Review, a Tribute to the '90s
150 Greenpoint Avenue at Brooklyn Bazaar
Time: Midnight
Price: $12 – $15
Relive the memories of the 90s as the group plays all your favorite N'SYNC, Backstreet Boys, New Kids On the Block, One Direction, and more.




— Saturday December 17th, 2016 —
GreenMarket at Prospect Park
Prospect Park at Flatbush Avenue and Eastern Parkway
Time: 8am
FREE
Explore the park and it's legendary GreenMarket. Purchase the best fruits, vegetables and holiday goodies straight from the farm.
NYC Meet and Greet with Essence Beauty
1592 Flatbush Avenue at Feel Beauty Supply Store
Time: 1pm – 4pm
Join ESSENCE Beauty Editor, Nikki Brown, as she explains the importance of keeping your hair and skin healthy during the winter season. There will be free samples, giveaways and Shea Moisture Swag Bags.
Winter Wonderland Laser Show Weekend
1208 Surf Avenue at Coney Island
Time: 1pm and 3pm
Price: $12
Enjoy a Christmas themed laser show that will blow you mind.
Holiday Season Pop-Up Shop Hosted by Alexandra's Way
445 Grand Street
Time: 2pm – 8pm
FREE
Get that last minute Christmas shopping in at this pop-up shop and enjoy special holiday drinks and cool giveaways.
Fugly: The Ugly Sweater Party
1298 Willoughby Avenue at Be Electric Studios- Photo Studio
Time: 9pm
Price: $10 – $15
Do you think that you would have the ugliest sweater at the party? If so, attend this Fugly sweater party and you just made win a prize. Also enjoy an hour of open bar.




— Sunday December 18th, 2016 —
Mama's Bazaar: Holiday Market: House of YES
2 Wyckoff Avenue at House of YES
Time: 11am – 5pm
FREE
Shop for the holidays or just for yourself as MaMas Bazaar brings you seasonal Jewelry, Crafts, Vintage, Handmade Goods, Arts, Textiles, Festival Wear, Costumes, Lingerie, Fetish, Menswear and more!
BrooklynButtah Presents: The Vision Board Brunch & Shop
189 Bridge Street at Amarachi Restaurant
Time: 1pm
Price: $42 – $53
Do you have any goals that you want to set for the new year? Attend this event and learn how to put those goals together on a vision board and see them come to life.
Brooklyn Symphony Orchestra
200 Eastern Parkway at The Brooklyn Museum
Time: 2pm-4pm
Price: $20 for non Museum members, $10 for Museum Members
End your weekend with a classical segment by the Brooklyn Symphony Orchestra. The legendary group will play a musical piece of Shakespeare's Romeo and Juliet.
Children's Christmas List
1367 Utica Avenue
Time: 2pm – 6pm
FREE
Let you kids get into the Christmas spirit by attending this Christmas party. Toys will be given away to the first 500 children in attendance.
The Shining + Jack Daniels & Advocaat
308 Bedford Avenue at Videology Bar & Cinema
Time: 5pm
Price: $27
Enjoy a classic movie with a glass a Jack Daniels on the rocks and a side of Advocaat to end the weekend.