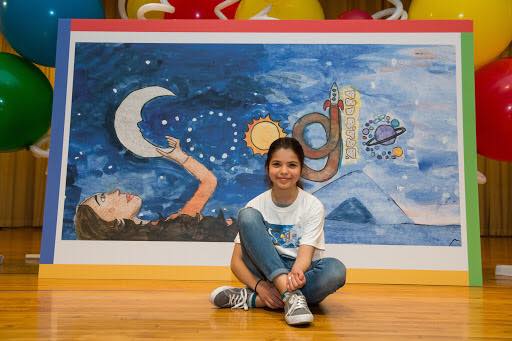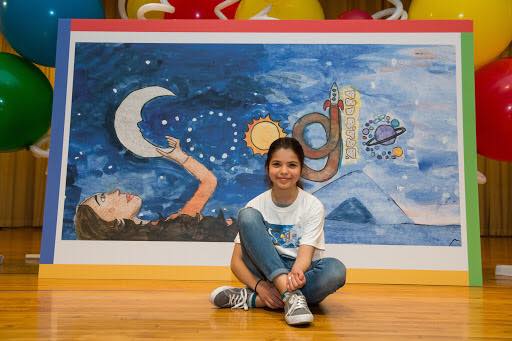 Gwen McNamara, a sixth grader at Community Roots Middle School in Fort Greene won the New York State Doodle "4" Google Competition and now has a chance to win the national contest.
On Tuesday, Google employees unveiled an oversized copy of Gwen's doodle called "What I see for the future" in front of her fellow classmates and teachers at the Brooklyn school.
"My doodle represents my hopes that future children will be able to look up and see stars and planets without pollution and smoke blocking out the sky," Gwen told Pix 11. "I hope for a world where people care for our planet, so that generation after generation can see the stars.
Gwen, who is 12-years-old and lives in Bed-Stuy, focused on clean air, using colored pencils and watercolors to create the Google logo. The drawing was made up of a half-moon, a ring of stars and a sun, a rocket, a line of meteors and a group of planets that together spelled out "Google." Below the logo lies a young brown-haired girl, gazing up and holding onto the crescent moon.
Climate change "is a really important issue, and once we mess it up, we can't go back," Gwen told the  NY Daily News.
Gwen now needs the public's help to win the national title. If she is voted the national winner, her doodle will be on display the Google search page for a day and she will win a $30,000 scholarship and a $50,000 technology grant for Community Roots.
To vote for Gwen's artwork, click here. You are allowed to vote for your favorite submission once per day until Monday, March 6th at 5pm EST.