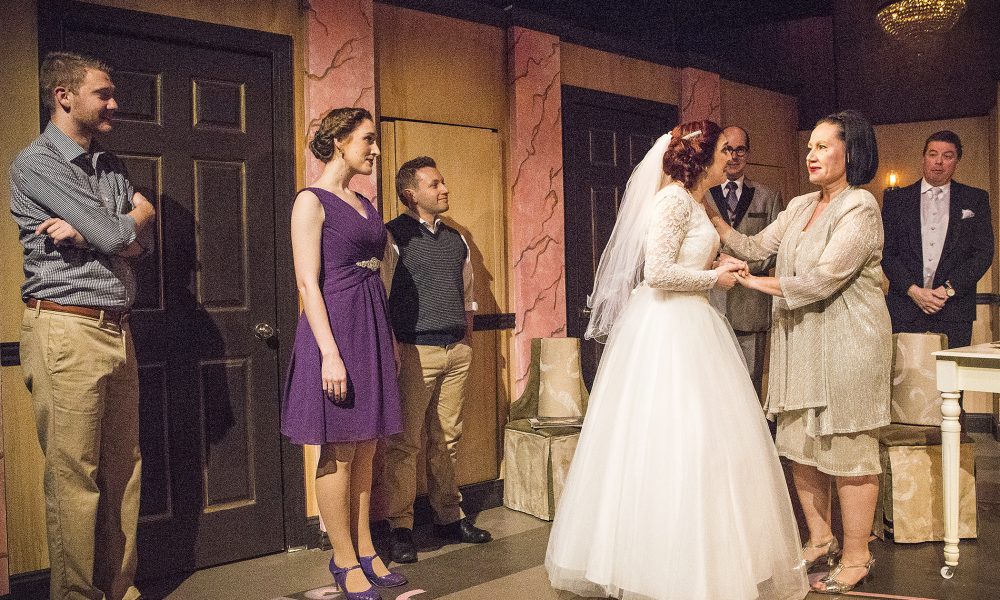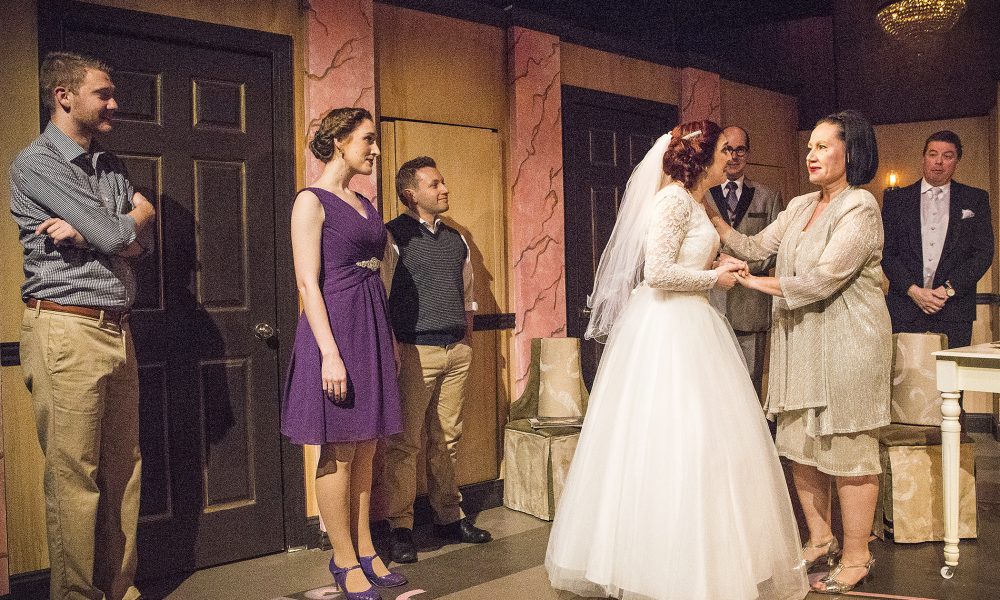 Did you know there is a creative space in Brooklyn dedicated to producing, presenting, and promoting professional-quality affordable theater?
The Gallery Players has provided audiences with amazing theater since founder Bruce Wyatt settled in Brooklyn from New Orleans in 1967. And to celebrate its 51st season, the local theater house presents musical comedy, It Shoulda Been You.
It Shoulda Been You, with book and lyrics by Brian Hargrove and music by Barbara Anselmi, originally premiered on Broadway in April of 2015. Now at The Gallery Players located at 199 14th Street in Park Slope, the production runs through Sunday, December 17, 2017. Directed by Mark Harborth, the musical follows a disastrous Jewish wedding day inside a swanky hotel.
A quaint white vanity and a metal wardrobe adorned with glistening outfits including a lovely wedding dress rested comfortably on stage. For a small theater, the set designed by Matthew S. Crane is strikingly impressive.
Jenny Steinberg (CHRISTINE DE FRECE) sits at the vanity wearing a bridal veil and robe (both are white) starring intently into the mirror — apparently distraught. While she sings, "I never wanted this," viewers are drawn into her story. What went wrong for this blushing bride? With a sudden plot twist, Judy Steinberg (LUISA BOYAGGI) bursts through the dressing room door and rips the veil from her daughter's head. Jenny is not the bride after all – her "slimmer, prettier sister" Rebecca Steinberg (ELYSE BEYER) is the one getting married.
The storyline isn't a new one — Jewish girl, Rebecca (ELYSE BEYER) meets Gentile boy, Brian Howard (JOSH KOLB), they fall in love and are about to get married. Their families quarrel, a prenup is presented, an ex boyfriend appears, and stress is felt by everyone. But wait, another plot twist or two.
It Shoulda Been You is something old, something new, something borrowed, but never blue. Look out for Judy Steinberg (LUISA BOYAGGI) as the cynical mother of the bride and Albert (JOSEPH PETERSON), the harried yet magically proficient wedding planner. These two are effortlessly hilarious on stage. A highlight comes during a duet with the groom, Brian (JOSH KOLB), and his father, George Howard (FRANCIS HEANEY). Their male bonding moment to some soft-shoe moves, is quite deceptively captivating.
To purchase tickets, or for more information, and see the 2017 – 2018 calendar visit GalleryPlayers.com. Tickets are $25 for Adults and $20 for senior citizens, students, and
children 12 and under.