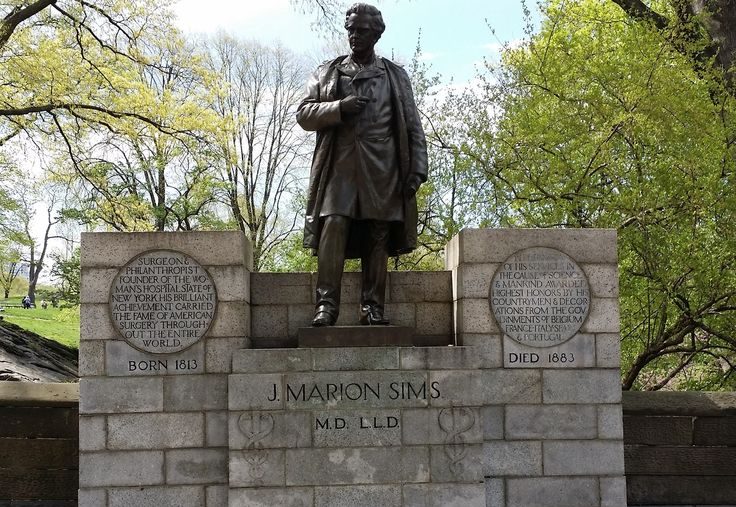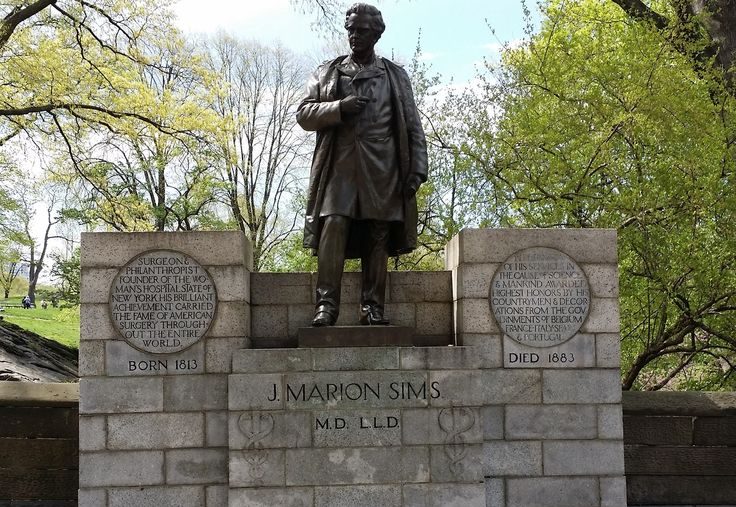 GREENWOOD — The City announced on Friday, a monument of J. Marion Sims, the doctor who used enslaved Black women for his "practice" without informed consent — or anesthesia — will move to Greenwood Cemetery. OurBKSocial hopes this means, the City will finally bury the statue there.
"The most offensive statue I find on our capitol wasn't the [Confederate] soldier," said Mayor Steve Benjamin of Columbia, South Carolina, in an MSNBC interview. "It was of J. Marion Sims."
The question begs, why would Mayor Bill de Blasio bring to Brooklyn, a statue dedicated to this 19th century doctor?
The decision to move the statue of the "father of modern gynecology", from Fifth Avenue and East 103rd Street opposite the New York Academy of Medicine, came after protestors consistently and vehemently demanded its removal. Since 2010 East Harlem Preservation has sponsored protests and forums for it to be taken away. And most recently, during a National Day of Action, Black Youth Project 100 NYC, strategically staged a protest in front of the monument. In a concerted effort to remove this symbol of hatred and oppression, members wore blue and white hospital gowns drenched in blood-red paint.
Harriet A. Washington, author of the book, Medical Apartheid: The Dark History of Medical Experimentation on Black Americans from Colonial Times to the Present, calls each Black woman's body used — a bloodied battleground. The operations carried out by Sims, a South Carolinian surgeon, occurred in the Confederate state of Alabama from 1845 to 1849.
Washington describes his horrific procedures as violent struggles between the enslaved woman and doctors.
"Each naked, unanesthetized slave woman had to be forcibly restrained by the other physicians through shrieks of agony as Sims determinedly sliced then sutured her genitalia," writes Washington. She further details it wasn't until he had experimented on enslaved powerless women for years, did he venture to cure white women. He ultimately limited his private practice to only wealthy white women.
In 1863 Empress Eugenie, wife of Napoleon III of the French, sent for Sims. He was known for "giving new hope and new life to women." The Empress suffered from Vesicovaginal Fistula after she had a difficult pregnancy with her son. Her excruciating labor lasted for two days.
With Fistula, the fetus can not fit through the birth canal. The contractions unsuccessfully pushes and pushes the fetus downward. Due to this complication, a hole develops between the bladder and vagina which leads to urinary and fecal incontinence, lifelong pain, infertility, and a foul body odor. Sims had developed the first operation to successfully repair this horrible malady.
After operating on the Empress, Sims became internationally known, praised, and rich. Today, statues and plaques dedicated to him, appear in several states. But what about the Black women he used as guinea pigs for the sake of modern medicine. We know the names of only three of them. It wasn't until the 20th century that Sims' medical ethics were even questioned.
Sims, also experimented on babies. He used a shoemaker's awl (a small pointed tool used for piercing holes) to pry open the skull bones of enslaved women's babies. According to Washington's book, these particular procedures had a 100% fatality rate. Sims of course, blamed the fatalities on "the sloth and ignorance of their mothers."
As we celebrate the anniversary of Dr. Martin Luther King's birth on Monday, January 15th, let's remember his profound words. "The ultimate tragedy is not the oppression and cruelty by the bad people but the silence over that by the good people."
Brooklynites, we can not be quiet about the Sims' statue. It does not belong in Brooklyn!
We know the names of three of Sims' patients from his owns records — Lucy, Anarcha, and Betsey. If Brooklyn is to inherit a statue, let it be a colossal dedication to the fifteen strong Black women who survived during slavery and suffered the atrocities of Sims' modern, crude and cruel experimentation. #NotOurHero