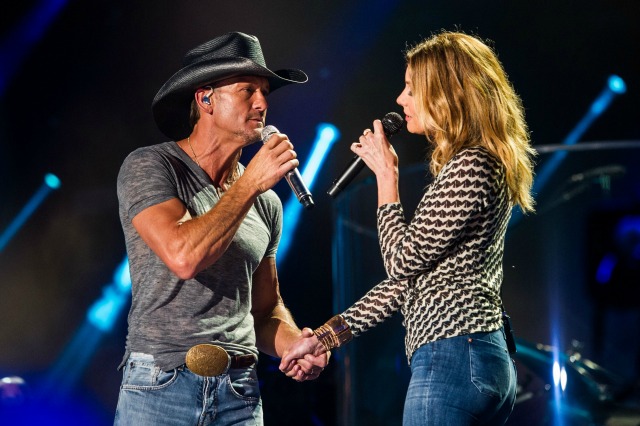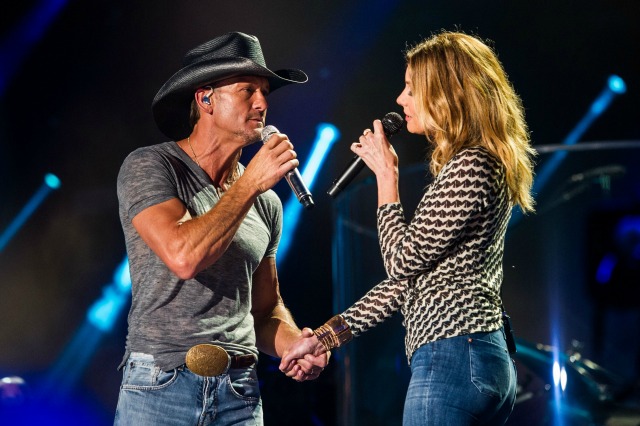 GRAMMY Award-winning country artists Tim McGraw and Faith Hill will bring Soul2Soul The World Tour 2017 to Barclays Center on Friday, Oct. 27, 2017.
The tour celebrates the 10th anniversary of the duo's record-breaking Soul2Soul II tour of 2006-07, the highest-grossing country music tour of all time, and the first time Hill has toured since.
"We have the best fans in the world who have been with us through our entire journey and we are so excited to celebrate with them by going back on the road and showcasing an exciting new show," said Tim McGraw and Faith Hill in a press statement. "It's always great when we get to work together and it's been a while since we got to do that."
McGraw and Hill have been dominating the music charts since the early '90s. They began touring together in 1996 on McGraw's Spontaneous Combustion tour. In 2000, they created the Soul2Soul franchise with their record-breaking Soul2Soul tour, becoming that year's top grossing and most successful U.S. tour. Their success continued in 2006-2007 when Soul2Soul II returned to the road, which was the most attended tour of the year in any music genre. It remains the highest grossing multi-year North American tour in country music history. Pollstar Magazine named it their "Major Tour of 2006," beating out Madonna, The Rolling Stones and The Red Hot Chili Peppers for the honor.
Country music is strengthening its roots in Brooklyn...
Click To Tweet
McGraw has sold more than 50 million records worldwide and dominated the singles charts with a stunning 41 No. 1 singles.  He is currently riding the Billboard Country Airplay chart with 3 singles in the top 20, a feat he was the first to achieve, and now the first to achieve for a second time. He is the most played country artist since his debut in 1992, with two singles spending more than 10 weeks at No. 1 ("Live Like You Were Dying" and the genre-breaking "Over and Over"). His recent multi-week No. 1 single "Humble and Kind," off his "Damn Country Music" album, is his 59th release to hit top 10 or better, and spawned a New York Times Best Seller book. McGraw's film credits include blockbusters "Friday Night Lights" and "The Blind Side."  He will also be appearing in the feature film "The Shack" next year.




In addition to 5 GRAMMY Awards and multiple nominations, Hill has won an impressive list of awards, including multiple Billboard Music, American Music, People's Choice and Country Music Association Awards. She has consistently broken chart records with her No. 1 singles and has had major crossover success with the hits "This Kiss," "Breathe," "Cry" and "There You'll Be." She has had multiple albums top both the Billboard Top 100 and country charts simultaneously and has sold more than 30 million albums worldwide. She has had 3 network TV specials that garnered top ratings and has appeared and performed on every major award show, including twice on the prestigious Academy Awards. In 2000, Faith performed the National Anthem to a global audience of over 88.5 million viewers at Super Bowl XXXIV in Atlanta and is the only country artist and one of only three artists ever to perform both "The Star Spangled Banner" and "God Bless America" at Super Bowls. This fall, Hill, alongside former "Oprah" co-executive producer and OWN executive Lisa Erspamer, will co-produce an innovative new daytime lifestyle show based in Nashville.
This tour alines with Barclays Center initiative to bring more Country music to Brooklyn. Luke Bryan, back in September 2014, musician Luke Bryan launched the BROOKLYN COUNTRY programming franchise at Barclays Center with his "That's My Kind of Night Tour".
"Country music is strengthening its roots in Brooklyn," said Barclays Center CEO Brett Yormark.
Ticket sell dates for the Soul2Soul concert will be announced at a later time, but keep it locked right here as we'll update you as we receive more information.