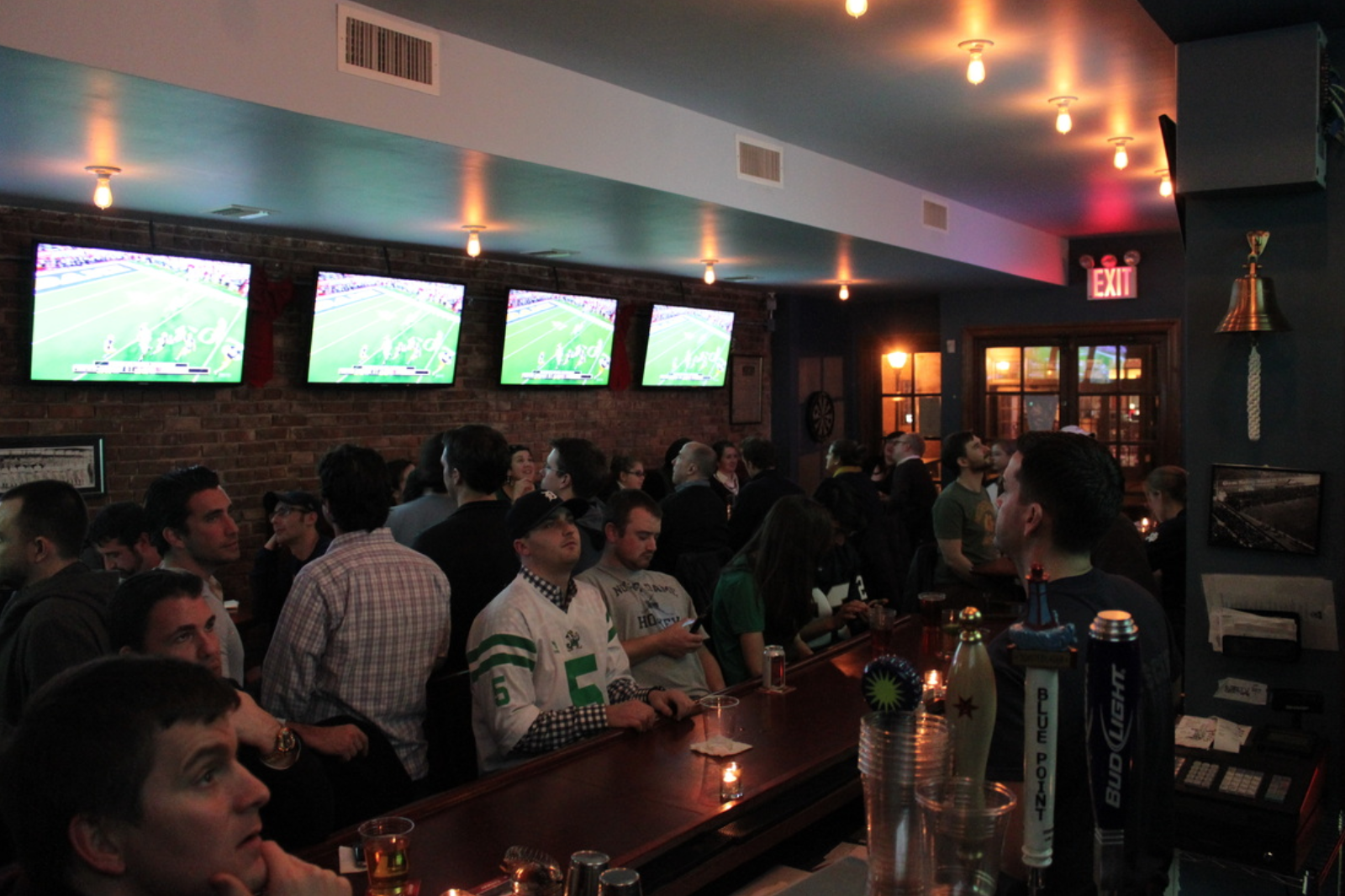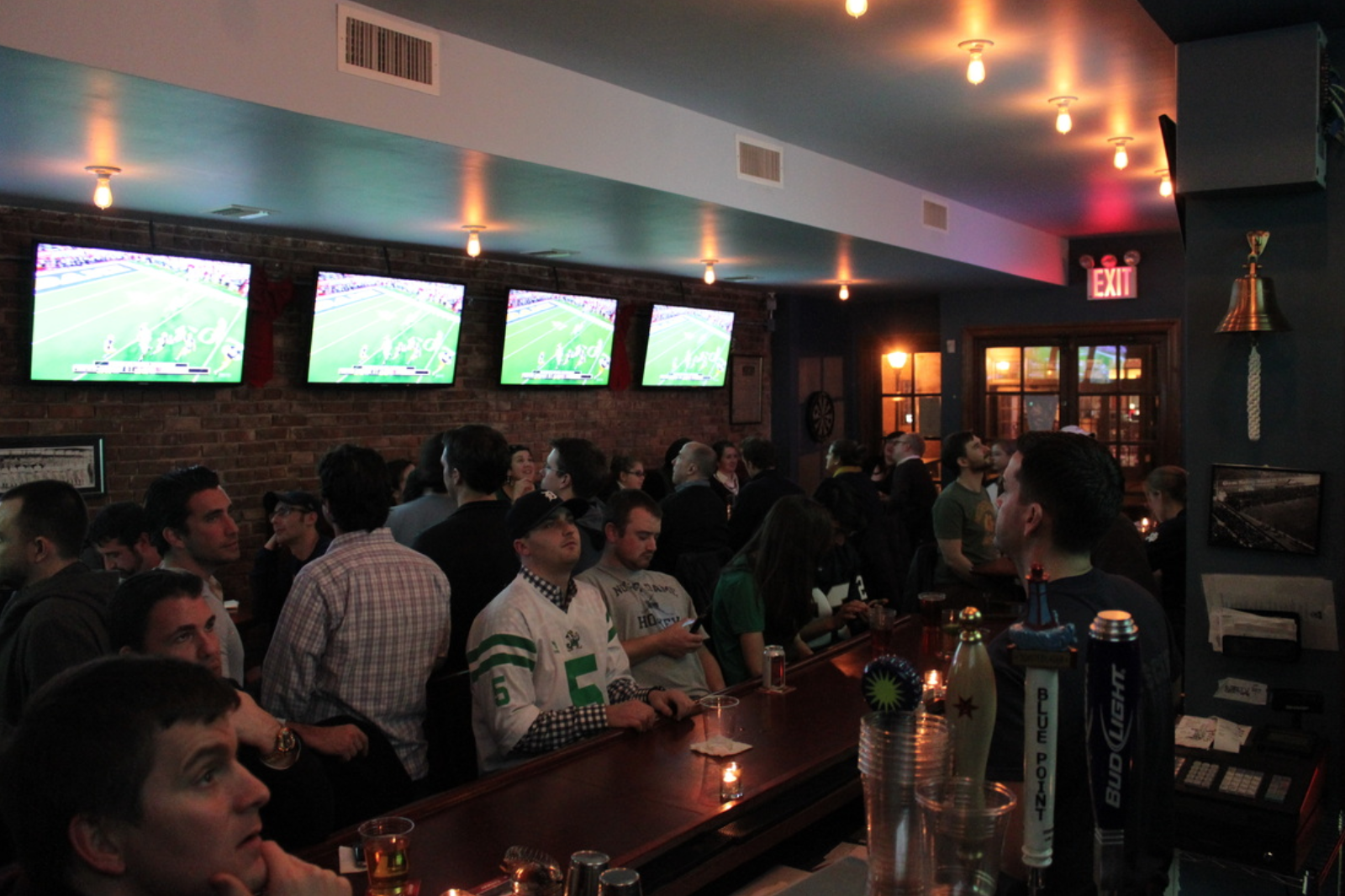 Whether you want to root for your home team or just drink and eat wings, there's no reason to not enjoy football season.
Here's a look at our favorite places to throw back a few and enjoy a football game.
95 South, 778 Franklin Ave., Crown Heights
$25 for an all-you-can-eat buffet sounds like a quality Sunday to me. Enjoy 2-for-1 beer bottles and an all-day Southern food buffet at this local spot. When your team fumbles, take your frustration out on another round of ribs. The buffet is on Sundays from 11am-4pm.
200 Fifth, 200 5th Ave., Park Slope
Not to be confused with the fancier 230 Fifth in Manhattan, 200 Fifth is the ultimate sports bar. It has a ton of screens and almost feels like a Midtown spot tucked into Park Slope. They have sampler platters, wings and more, but don't skip the bleu cheese truffle fries, which pair well with any of the 41 beers on draft.
Henri on 5th, 279 5th Ave., Park Slope
Happy hour is more like a happy day here; it runs from 4pm-10pm Monday-Thursday, making Henri on 5th ideal for Monday Night Football. Luckily, there isn't a bad seat at this spacious bar so you don't need to stress about getting there super early if you're trekking from work.
Union Grounds, 270 Smith St., Carroll Gardens
They have 9 types of hot dogs and 4 drafts. Simple, perfect and unpretentious – what any sports bar should be. While the amount of hot dogs available is enough to get any member of my family there, the vibe is laid-back and great for watching games. They'll even change the channel for you. It's also affordable; food here is only $5-$12, with the dogs being on the cheaper side.





Half Court, 446 Park Pl., Prospect Heights
Cheap drinks, great staff, and you can order food from nearby for delivery. The space is split in two; one side with tables and TVs, which is helpful if you're ordering pizza or something else family-style, and the bar itself is decked out with flat-screen TV's above. Beers run $4-$6, and the bartenders are super nice. You gotta love an old Brooklyn bar with no website.
Mulholland's, 312 Grand St., Williamsburg
This spot celebrated its 10-year anniversary in March this year, serving up really good wings and great beers on tap with a cozy fireplace in the back. Enjoy $15 High Life buckets if you're in it for the long haul, and make sure to get there early for seats to watch games. Definitely the best sports bar in Williamsburg.
Windy City Ale House, 7915 3rd Ave., Bay Ridge
The bars of Bay Ridge are great for day drinking. Windy City is perfect for watching games, with a nice selection of craft beers and good bar food. Get the totchoes – nachos with tater tots instead of tortilla chips. Of course they're delicious. There are also Chicago-style hot dogs, and expect the Bears games to be playing if it's a game day.
Brooklyn Icehouse, 318 Van Brunt St., Red Hook
BK Ice House was already a favorite for their bacon-wrapped hot dog. But it's not only great for cheap beer and a snack. The rundown seats and tables make you feel like you're in a smaller city watching a game. After all, Red Hook is its own cozy little pocket.