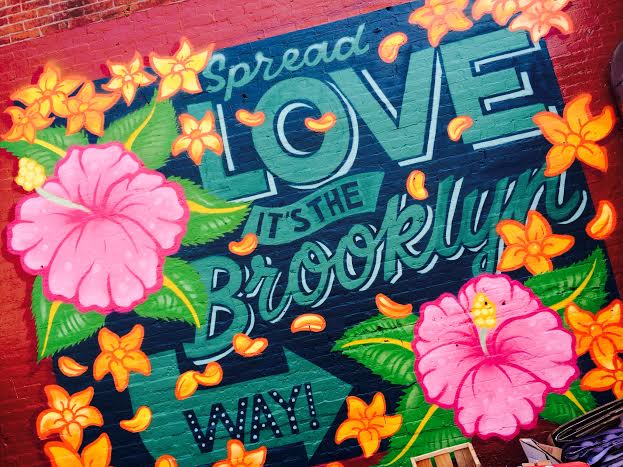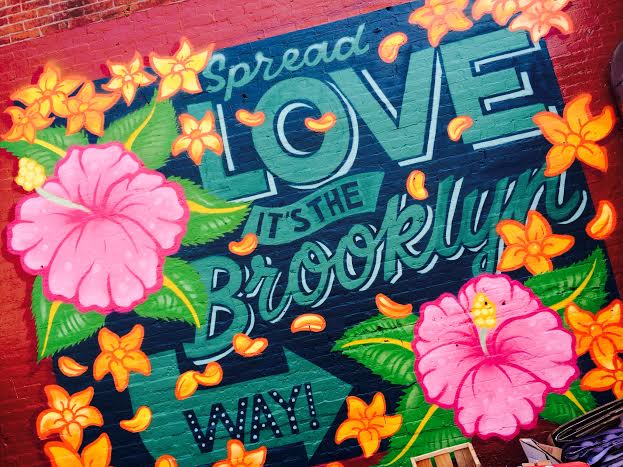 This is the second of our monthly series covering all of Brooklyn from Greenpoint to Sea Gate.
Williamsburg has Greenpoint above it, Queens County to its right, the East River to its left (over which the Williamsburg bridge connects Brooklyn to Lower Manhattan) and below it are the neighborhoods of Bushwick, Bedford Stuyvesant, Clinton Hill, and the Navy Yard. According to city-data the population of Williamsburg is 126,183.  The Center for Urban Research says between 2000 and 2010, the entire borough's population grew by 39,000 people; the White population grew by 38,774, the Asian population increased by 75,838 and the Blacks population lost 49,517 people. In Williamsburg specifically, the Latino population, declined  by almost 25%.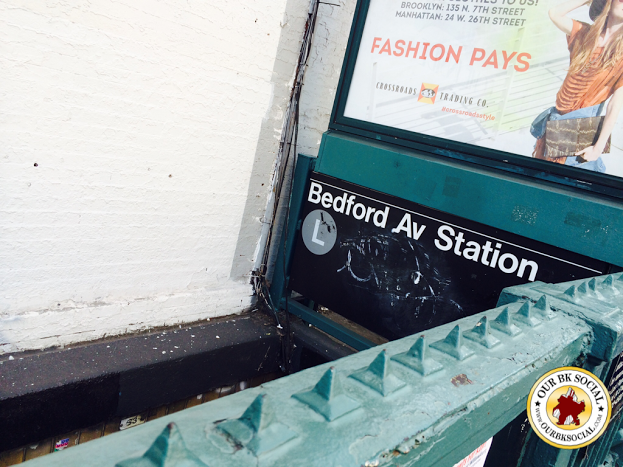 I started my tour of Williamsburg at the Bedford Avenue and North 7th Street stop on the L train.  Bedford Avenue is where it's at!  It's upbeat, lively and bustling with such a diversity of visitors, residents, and their pets it's breathtaking.
As I leisurely strolled down the Avenue, I noticed numerous "watering holes" – pubs, bars, and taverns.  I decided to head over to the Brooklyn Brewery on North 11th Street between Berry and Wythe for a drink – or two.  I arrived at the Brewery in time for a guided tour of the brewhouse and packaging room.  (Tours are conveniently scheduled everyday – for more information on visiting the facility and the history of the company visit the Brooklyn Brewery website.)  Tim, our well informed guide, also enthusiastically serves beers to customers at the end of his tour.  I deliberately chose the light refreshing "Brooklyner Weise" to guzzle. This beer is brewed in the classic German way.  Many German immigrants made Williamsburg their home in the 1800s and opened businesses here.  In 1996 when the Brooklyn Brewery moved to this site, Williamsburg was an old industrial ghost town – "no one wanted to come here and property was dirt cheap", Tim said. The 70,000-square-foot brewery cost about 1 dollar per square foot then – really? OMG!  Now that "Brooklyn's Hot", the real estate asking price is closer to 300 dollars per square foot…Cha Ching!
Back on Bedford, I stopped at Goorin Bros., headwear for men and boys since 1895. The fabulous window display immediately drew me in. Once inside the shop, I was even more impressed.  Goorin Bros. is one of the few family owned businesses left.  The four generations of this family have taken the business of hats very seriously and created a most outstanding brand. Founder Goorin's great-grandson is superbly blending vintage with modern.  Inside the shop, dapper modern day hats are mingled with vintage tools of the craft. The sales staff are quite knowledgeable and customer friendly.  On my way out I was offered "a shot" – a special gift given to customers on celebratory occasions.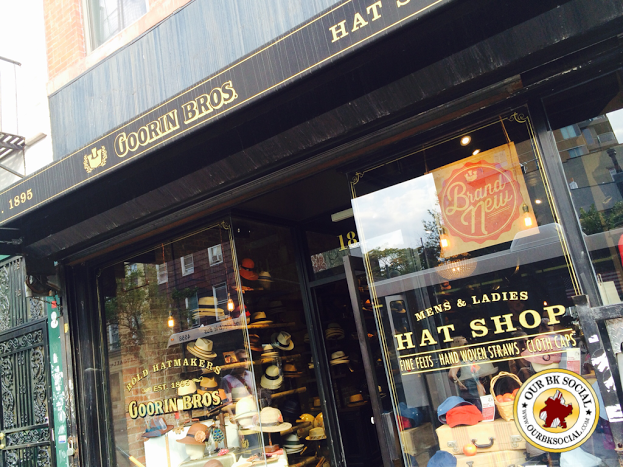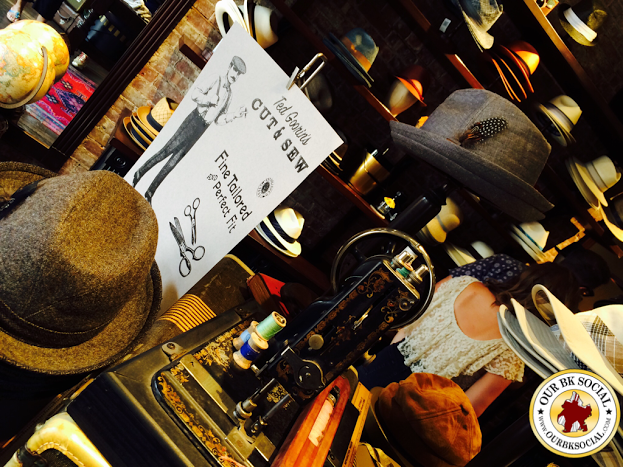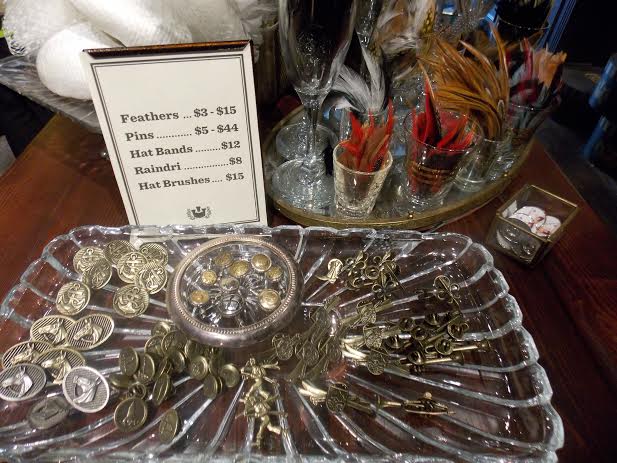 Williamsburg literally has you covered from head to foot. The impressive Brooklyn Bespoke is an exquisite shoe making studio where original and unique footwear is hand sewn and made to measure. For the creative in you, owners Jesse Moore and Marika Verploegh Chassé host exciting but artistically challenging shoemaking workshops on Grand Street.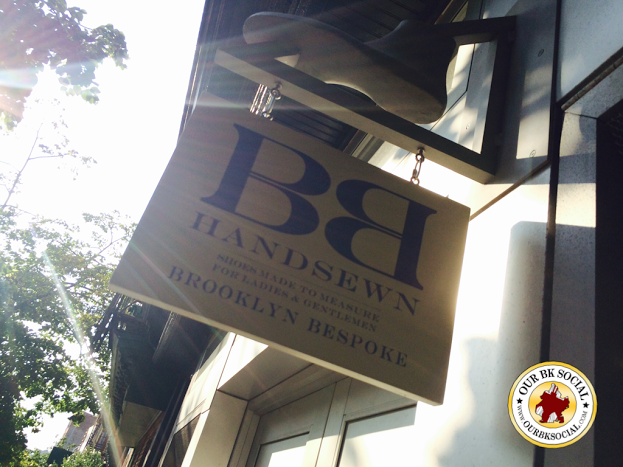 Grand Street separates the north-side from the south-side in Williamsburg.  So I crossed Grand and walked to 162 South 3rd Street.  I wanted to see where Dr. James McCune Smith lived.  Born in New York on April 18, 1813, Smith was the first African-American to become a medical doctor.  According to Dr. Thomas M. Morgan's article in the Journal of the National Medical Association, Volume 95, Number 7, July 2003, New York medical schools denied him entry because of his color.  Nonetheless, he successfully earned a Medical Degree in 1837 from the University of Glasgow, Scotland.  In addition to his successful professional career, Dr. Smith was an author, activist, and abolitionist. For more information on Dr. Smith and the abolitionist movement in Williamsburg check out "In Pursuit of Freedom" a current exhibit at the Brooklyn Historical Society. (brooklynhistory.org)
After having my fill of Williamsburg's beautiful murals and gorgeous buildings like the Russian Orthodox Greek Catholic Cathedral of the Transfiguration of Our Lord with the  Moorish arches – it was time to eat.  There is nothing more satisfying than eating a meal and experiencing the culture of a people. When you think of the perfect porterhouse who comes to mind? Peter Lugers on Broadway, of course!  Originally established in 1887 as a restaurant with a pool hall and bowling alley, 127 years later it is still one of the best steak houses around.  FYI – It was Carl Luger, Peter's father who started the business, and today it is no longer family owned. Because I had eaten there many times before, I reluctantly decided to try someplace new.
Sweet Chick – chicken and waffles was my choice. Their philosophy is great food, a cool vibe, and interesting cocktails at a great price. The restaurant is small but so Brooklyn. I started my meal with the delightful kale B.L.T salad.  This salad included house cured bacon – the biggest, fattest pieces, I have ever seen.  For the main course I indulged in the scrumptious rosemary and mushroom chicken and waffles. At the end of my meal, I slowly sipped a cup of French press coffee.  The coffee was so delicious, I skipped desert.  The wait staff are very friendly and quite attentive. Their menu professes, "Spread love, it's the Brooklyn way" and they manage to live up to that.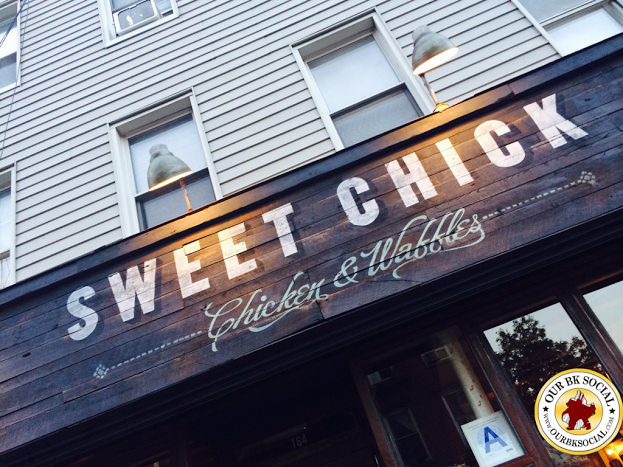 Williamsburg is a treat!  If you have never visited this neighborhood; then you must.  If you have;  then you must return soon.
Be sure to check us out next week for Part 2 in Williamsburg.
* Utilized "Ten Historic Walking Tours: The Big Onion Guide to Brooklyn by Seth Kami. And Eric Wakin, New York University Press, New York, 2005.
Written by Judith C. Lovell
Follow me on Twitter @crystalparris