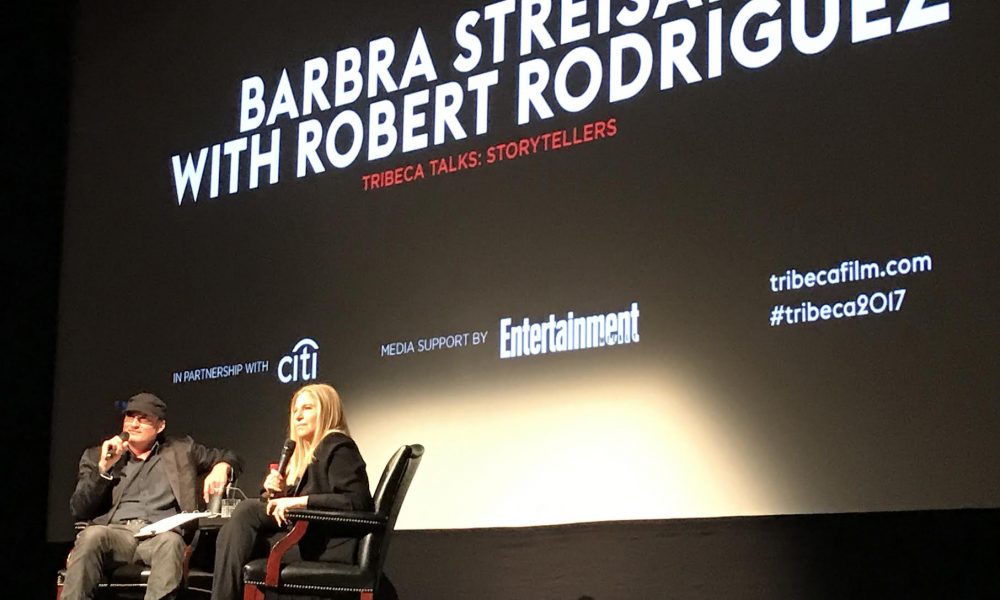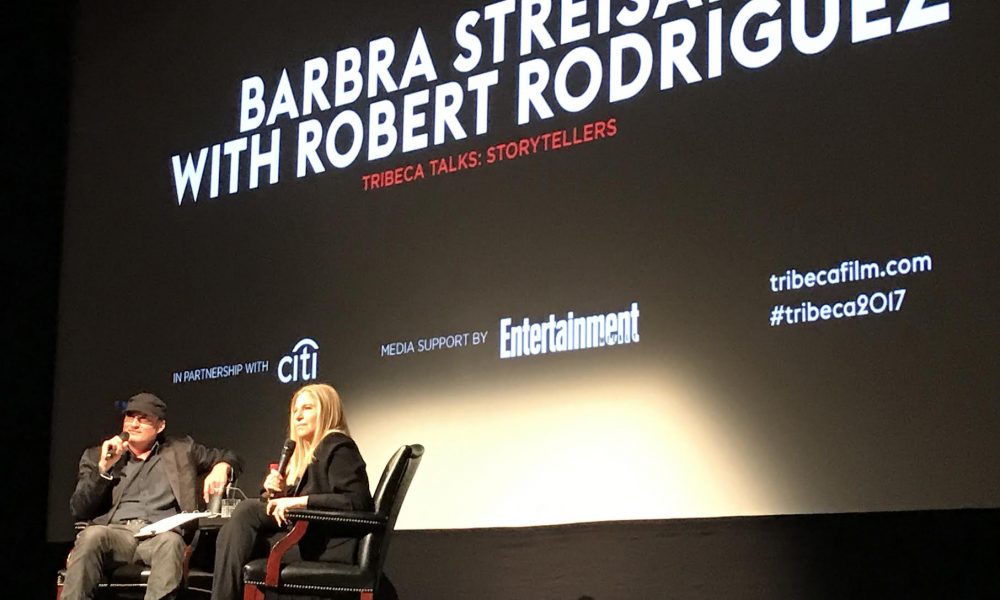 "As a kid I would harmonize on my stoop in Brooklyn," Barbara Streisand described her humble beginnings during the 16th annual Tribeca Film Festival's Tribeca Talks: Storytellers with Robert Rodriguez.
Fans packed the BMCC Tribeca Performing Arts Center at 199 Chambers Street in Manhattan on Saturday, April 29, 2017 to hear from one of Brooklyn's own legendary performers. Rodriguez, a Texan filmmaker, screenwriter, and musician, bowed to Queen Barbara upon her entrance. The audience immediately rose to its feet while applauding thunderously. Chants of "we love you, Barbara," echoed in the room.
"There was no bigger star in my house than Streisand," declared Rodriguez. "My mother had all of your records. There were ten of us and we've seen all of your movies."
Rodriguez, a true fan and friend of Streisand, gently prodded and poked to get her story. "After all these years, you're still a mystery to me."
Streisand parents lived at 457 Schenectady Avenue in East Flatbush when she was born on April 24, 1942. While a baby of only fifteen months, her father died. Streisand's mother moved Barbara and her brother Sheldon into their grandparent's three-room apartment at 365 Pulaski Street in Bedford-Stuyvesant.
"I was known as the kid with no father but a good voice." It was there on Pulaski Street she sang with other children on the stoop — that's the Brooklyn way! She attended yeshiva — a Jewish elementary school — on Willoughby Street and graduated at the top of her class from Erasmus Hall High School.
"I wasn't a happy kid. I went to the movies a lot to escape reality. I love make believe; the world of drama. The movie theater was also cool (in temperature) and served green ice cream." The Lowe's King Theater at 1025 Flatbush Avenue became Streisand's sanctuary. She pointed to the marquee and said, "someday, my name is going to be up there."
The theater that opened in 1929 did have Streisand's name on its marquee in 1973 before closing in 1977. The Way We Were, a film with Streisand (Katie Morosky) a politically active Jew, opposite Robert Redford (Hubbell Gardiner) her love interest played there. Most recently, the theater reopened to the public in 2015 as the Kings Theater.
At just twenty-seven years old, Streisand had won every major entertainment award, making her one of the 18 to score an EGOT (Emmy, Grammy, Oscar and Tony). Now seventy-five years young, her list of accomplishments continues to grow. To date, Streisand has earned 5 Emmys, 10 Grammys, 2 Oscars, and 1 Tony. She is a successful all-around artist: singer, actress, songwriter, producer, director, writer, and philanthropist. In 2015, President Barack Obama honored Streisand with the coveted Presidential Medal of Freedom.
The legendary icon returns to the place of her birth on Saturday, May 6th at 8:00 PM. Streisand will perform her hits from six decades, including songs from her new album at the Barclays Center arena. If you have not secured tickets, click here. You don't want to miss this treat.