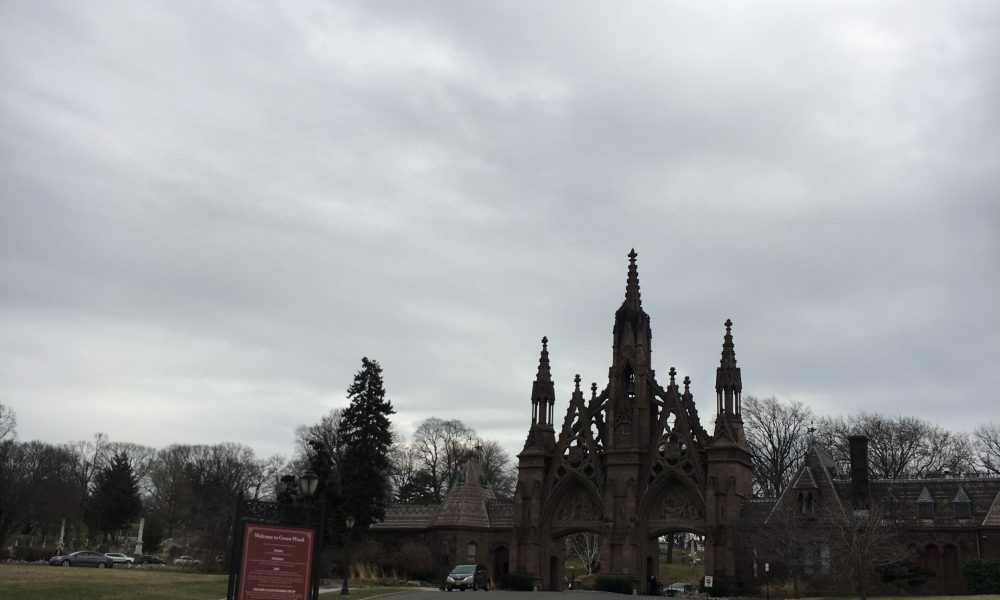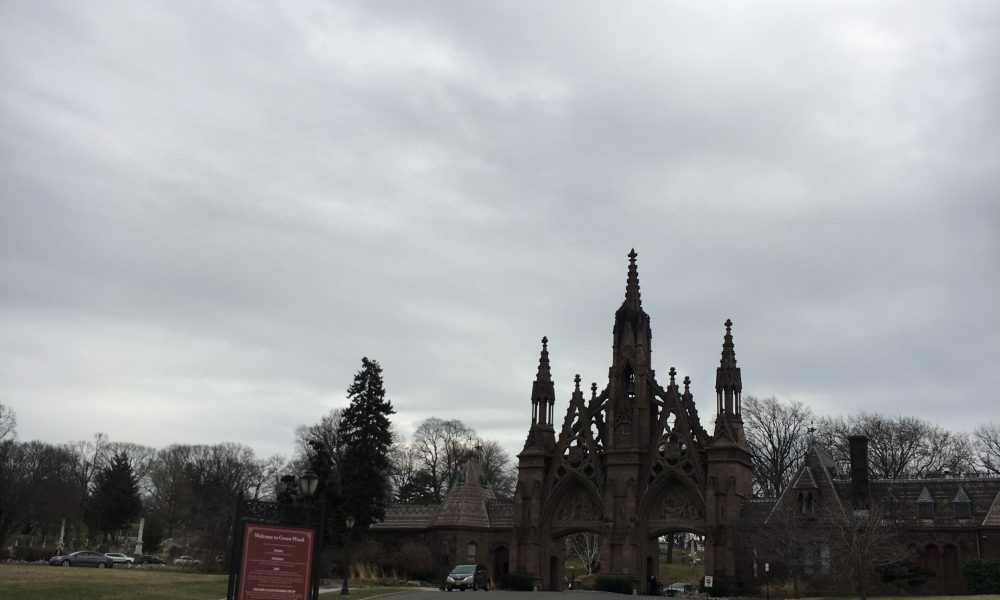 Just southwest of Prospect Park sits Brooklyn's original natural oasis: Green-Wood Cemetery. The sprawling, 478-acre cemetery is so much more than its name suggests. True, at its core it is a cemetery, but it's also a National Historic Landmark, the site of a Revolutionary War battle, home to the highest natural point in Brooklyn, and more.
Green-Wood's Rich History
Founded in 1838, a time when many New York churchyards had become overcrowded, Green-Wood was one of the nation's first rural cemeteries. With its undulating landscape, ponds, and ample greenery, the cemetery became Brooklyn's first public park by default. Prospect Park had not yet been created, and Green-Wood actually inspired the creation of both Prospect and Central Parks.
Green-Wood's topography came about by chance. The Laurentide Ice Sheet, the massive sheet of ice that covered parts of Canada and the northern United States millions of years ago, once covered what is now Green-Wood. Not only did it form Michigan's Great Lakes and many other smaller lakes, but it also deposited large rocks throughout the region. Some of those rocks are now the rolling hills of Green-Wood Cemetery.
In 1776, many years after the Ice Age but still before the cemetery was founded, Green-Wood was home to the Battle of Long Island. Also known as the Battle of Brooklyn, it was the first battle of the American Revolutionary War. It was also the largest battle of the war. Though the British triumphed in the Battle of Brooklyn, everyone knows how they fared in the War, and the battle only adds even more history to Green-Wood's hallowed grounds.
100 years after that historic battle, Green-Wood cemetery was the premiere place for New Yorkers to spend eternity. As morbid as that sounds, Paul Goldberger wrote in 1866 in the New York Times, "It is the ambition of the New Yorker to live upon the Fifth Avenue, to take his airings in the Park, and to sleep with his fathers in Green-wood." Perhaps because of this reputation, Green-Wood attracted top architects and artists to create work for the cemetery.
In the early 1860s, Richard M. Johnson designed a beautiful gothic entryway that inspires awe without feeling out of place at a cemetery. Years later, in 1911, the cemetery added a Warren and Wetmore-designed chapel that his since been designated a New York City landmark. In addition, there are several shelters built in various architectural styles throughout the cemetery, and even some works of art.
With such a reputation, many notable New Yorkers chose Green-Wood as their final resting place. Artist Jean-Michel Basquiat, composer and conductor Leonard Bernstein, and former New York Governor DeWitt Clinton are all buried there among a long list of other big names. The majority of the plots are dedicated to regular people, though, from long ago and also more recently. Walking around using a map to navigate between works of art, landmarks, and informative displays posted throughout the gigantic property, it's difficult yet important to remember that Green-Wood is, first and foremost, a cemetery.
A Visit to Green-Wood
I took a trip to Green-Wood on a recent, partly cloudy afternoon. Making my way uphill from the 25 Street, R subway station in Greenwood Heights, a delicious, sweet aroma nearly knocked me over. Baked in Brooklyn, a local bakery and cafe, is directly across the street from the cemetery. Although it's a little unsettling to smell fresh ciabatta and French bread on the way to the cemetery, it was a nice pick-me-up on an otherwise somber afternoon.
The Gothic Archway is stunning, and it took my breath away immediately — well, it was either that or one of the thousands of ghosts running around the cemetery. As I approached, I heard a host of shrill squawking. At the top of the entryway, a flock of monk parrots has a massive twig nest. They've been there for so long that no one knows how they got there, but their sharp green feathers make them easy to spot, and you can't ignore their incessant screeching.
Since I didn't bring a tent or any rations with me, I knew I wouldn't be able to cover the whole cemetery in one visit. Instead, I focused on the southwestern quadrant to ensure I'd see the two most notable sites: The Historic Chapel and Battle Hill. Sadly, there was a filming going on in the chapel that day and I couldn't get inside. It's still nice to look at from the outside, but with trailers and craft service trucks covering the outside, I didn't get the full experience.
Next, I stopped at the newest piece of art in the cemetery, Sophie Calle's "Here Lie the Secrets of the Visitors of Green-Wood Cemetery." Installed in 2017, it's a simple marble sculpture shaped like the Washington Monument that simply says, "HERE LIE THE SECRETS OF THE VISITORS OF GREEN-WOOD CEMETERY." There is no context or explanation, just a small slit at the bottom of the sculpture for visitors to slip their deepest, dirtiest secrets into. It's unquestionably odd, but as I continued my self-guided tour, it fit right in with Green-Wood's subtle idiosyncrasy.
Navigating the roads and footpaths in the cemetery is just challenging enough to require some mental exertion. That being said, you'd be hard-pressed to get lost as long as you have a map. Fortunately, maps are readily available at the cemetery entrance. I wove my way through the hills from "Secrets" up to Battle Hill, the highest natural point in Brooklyn and home to the Civil War Soldiers' Monument. The monument is nice enough to look at, but the real reward for hiking up the hill is opposite the monument. The view of the city, 220 feet above sea level, is unlike any other natural view you'll find in Brooklyn. Where else can you take in such a sight so serenely, surrounded by trees and grass?
Walking around the cemetery is extremely tranquil and peaceful. It's not eerie at all, but it's surprising to run into other people. My time there was an incredible reprieve from the busy streets. With honking horns, sirens, and sidewalks increasingly crowded with people throughout Brooklyn, it's nice to know I can get away from it all and enjoy some true peace and quiet.