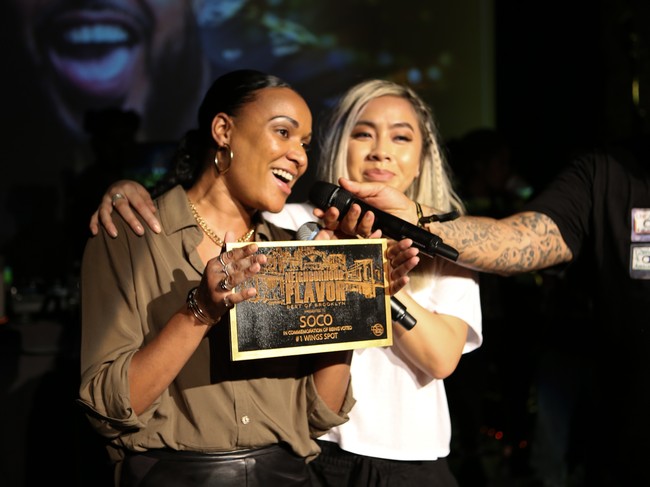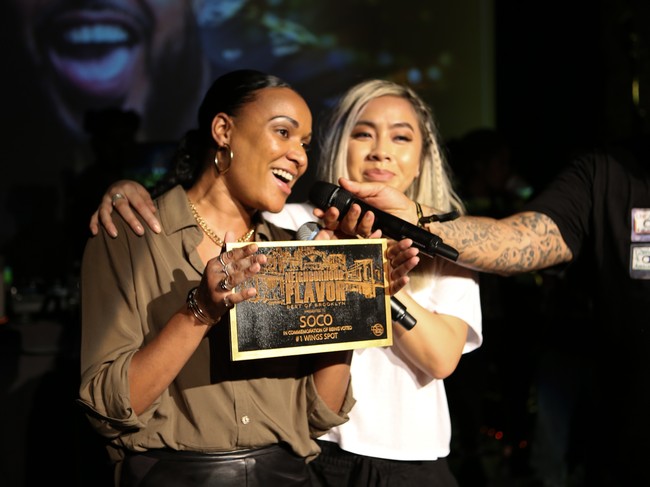 Jack Daniel's, wings and cheesecake sound like the recipe for a great party!
Thursday June 17 was Jack Daniel's Neighborhood Flavor celebration in Williamsburg, hosted by Hot 97's very own Jen BKLYN and DJ Enuff. The event set out to highlight and salute businesses who continuously contribute to the excellence of Brooklyn. There was an array of awards distributed from Best Wings in Brooklyn (SoCo Wings), to Best Lounge in Brooklyn (B-Hive Lounge), Best Dessert in Brooklyn (Junior's Cheesecake), Hottest Brooklyn Brand (Planet Brooklyn Academy), and The Biggin' Up Brooklyn Award (West Jackson- Executive Director behind Brooklyn Hip Hop Fest).




In honor of the special BK event, various artists stopped by to put on for their borough. The crowd fed off energized performances from Torae, Ro James (who performed his hit record Permission), Hip Hop's "Negrita" Nitty Scott, Joell Ortiz (with his first artist) New Day, and Talib Kweli.
When you mix assorted whiskey shots with hip-hop and dope rappers who spit nothing but the realest bars, there's nothing that can stop the energy flow. The crowd was bumping – from the lyrical performances to the latest and greatest tunes played by DJ E. Stylez. Park Slope's Talib Kweli closed the show out killing the stage while the audience rapped his lyrics to his popular track "Get By."
"This morning, I woke up
Feeling brand new and I jumped up
Feeling my highs, and my lows
In my soul, and my goals
Just to stop smokin', and stop drinkin'
And I've been thinkin', I've got my reasons
Just to get (by), just to get (by)
Just to get (by), just to get (by)"
If anyone knows how to put on a Brooklyn party, Hot 97 sure puts one on for Brooklyn.