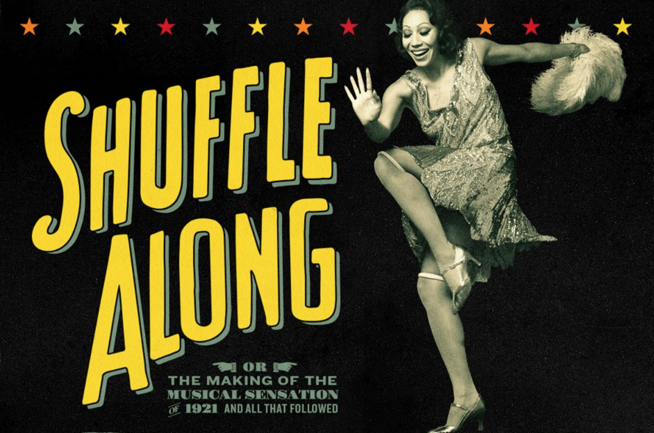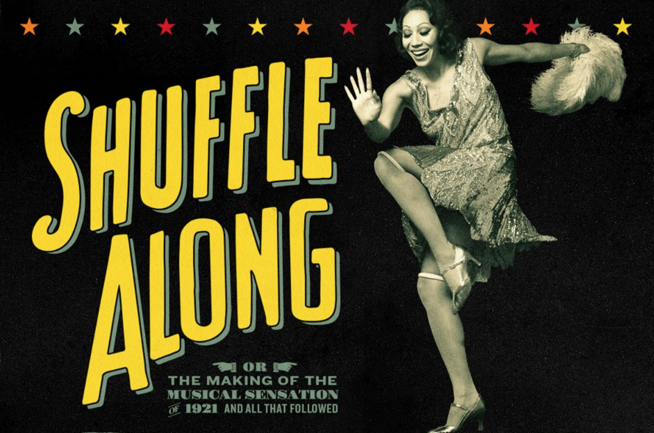 Shuffle Along or The Making Of The Musical Sensation Of 1921 And All That Followed officially opens on Broadway on April 28, 2016 at the Music Box Theatre.
The remake of the musical comedy entitled Shuffle Along, tells the backstage story of the victories and challenges of its creators and cast. It also provides exciting glimpses of the original story of a crooked mayoral election in fictitious Jimtown, USA. Now in previews, which simply means dress rehearsals open to the public, the show is a must see. The revival stars six-time Tony winner Audra McDonald and powerhouses Brian Stokes Mitchell, Billy Porter, Brandon Victor Dixon and Joshua Henry. Bring in 'da Noise, Bring in 'da Funk Savion Glover choreographs and legend George C. Wolfe directs.
Originally conceived by Flournoy Miller and Aubrey Lyles with music by Brooklynite Eubie Blake and lyrics by Noble Sissle, Shuffle Along made theater history in the 1920s. Wolf asks the question, "how did something so significant end up disregarded…with very few people knowing about it?"




I've highlighted fourteen meaningful ways this sensational musical changed the face of theater:
1. Shuffle Along" was written, produced, directed, and performed by African Americans, nearly 100 years ago.
2. The hit songs:"Gypsy Blues," "Love Will Find A Way," and "I'm Just Wild About Harry," were popular tunes from this show.
3. "I'm Just Wild About Harry," became democratic presidential contender (and winner) Harry S. Truman's campaign slogan and song.
4. The show ran from May 23, 1921 to July 15, 1922 on Broadway at the 63rd Street Music Hall, 22 West 63rd Street (the building was demolished in 1957). Once Shuffle Along closed on Broadway it toured for three years.
5. Not only did the production promote the brilliant songwriting team of Noble Sissle and Eubie Blake, and creative librettists F.E. Miller and Aubrey Lyles, it artistically exposed Josephine Baker, Adelaide Hall, Hall Johnson, Florence Mills, William Grant Still, Will Vodery, and Paul Robeson, among others.
6. Florenz Edward Ziegfeld, Jr., noted for his flamboyantly huge theatrical productions – Ziegfeld Follies, hired the chorus girls from Shuffle Along to teach his Ziegfeld Girls more than a few steps.
7. On opening night ticket prices for Shuffle Along were the same as other Broadway shows, ranging from 38 cents to 2 dollars. However, by November because of popular demand to see the show, premium seat prices rose to 3 dollars.
8. Back then (pre-civil rights days) Blacks were confined to the balcony during most theater performances. Variety reported black patrons were allowed to sit as far as fifth row from the stage for this show.




9. Shuffle Along added a special Wednesday midnight show so cast and crew in other plays could see it.
10. To accommodate the tremendous increase in traffic near the 63rd Street Theatre, the street was turned into a one-way.
11. The creators, cast, and crew started out with no real stars (but lots of talent) $18,000 in debt, (but lots of faith) hand-me-down costumes (but lots of ingenuity) and no pay (but lots of love for their craft.)
12. Although Eubie Blake was born in Baltimore, Maryland, he loved Bedford Stuyvesant, creating and recording there until his death in 1983.
13. Shuffle Along also came to Brooklyn theaters among them: the Majestic on Fulton Street (closed 1968), Montauk Arcade Theatre on Flatbush Avenue Extension (closed 1929) and Webra's Brooklyn Theatre on Pitkin Avenue (closed 1938.)
14. Actors Roger Matthews and Lottie Gee romantically sing 'Love Will Find a Way' on stage. Prior to this show, people of color shied away from romantic overtures. As journalist Lester Walton observed years ago, White audiences, for some reason, did not want colored people to indulge in too much lovemaking. Listen to the original love song here: