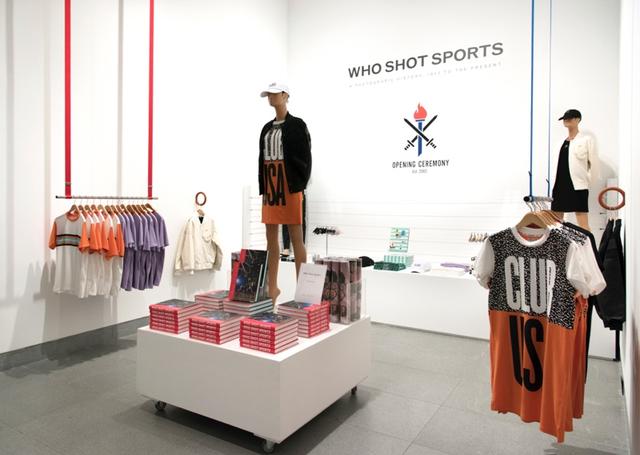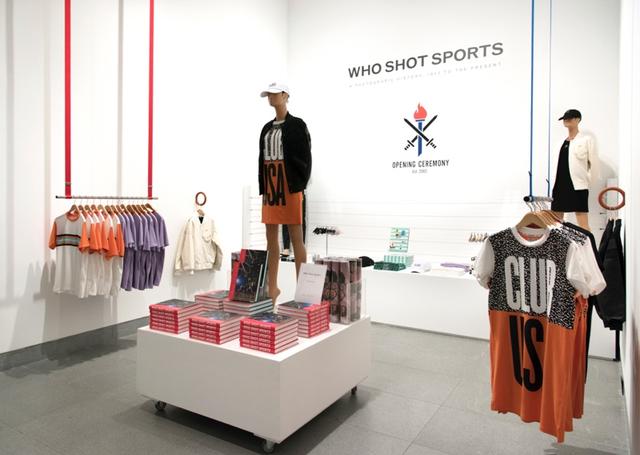 Opening Ceremony, brings its sporty wardrobe to the Brooklyn Museum. The global fashion brand launched a pop-up shop in the museum's newest exhibition Who Shot Sports: A Photographic History, 1843 to the Present.  The shop will be open until January 8, 2017 — as long as the exhibit.
The shop has been built to mimic a boxing ring, similar to Opening Ceremony's Club USA Howard Street store. It will offer products from Opening Ceremony's new CLUB USA capsule collection, including unisex tanks and tees, a T-shirt dress, caps, and souvenir pins. The collection draws inspiration from 1980s and 1990s sportswear, featuring block logos, composition book prints, and summer colors. CLUB USA prices range from $65 to $125.




The exhibit showcases items that surround years of sports that eventually led up to the 2016 Rio Olympic games, acknowledging how much of an influence the competition had on the founder's concept of Opening Ceremony, Humberto Leon and Carol Lim. "With the inspiration of the brand so heavily rooted in sports, it was an organic choice for Opening Ceremony to be part of the Brooklyn Museum's Who Shot Sports exhibition," Lim tells WWD.
Who Shot Sports, was one of the first museum exhibitions to push sports photographers to the forefront, giving them a platform to release comprehensive, organized photography. Currently, it holds over 230 different pieces which once captured the universal attraction of sports, highlighting many iconic moments globally.
Tickets for the Who Shot Sports exhibit, cost $16 for adults, $10 for students with valid I.D. and adults 62 and over and $10 for corporate Members. The exhibition is free for Individual Members, and for youth aged 19 and under. On Target First Saturdays and Thursdays Nights hosted by Squarespace, admission to Who Shot Sports will cost $10. For tickets click here.