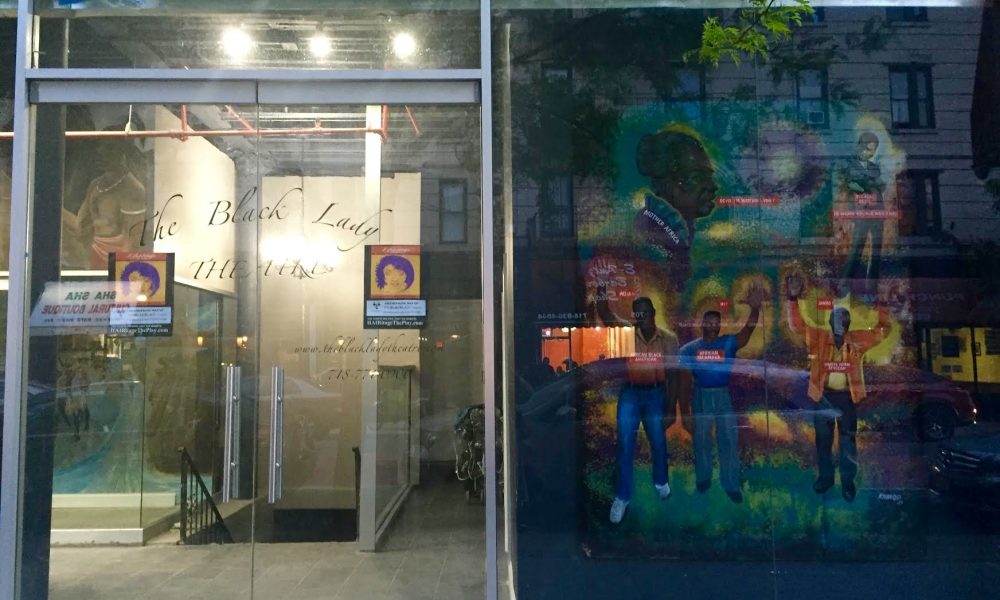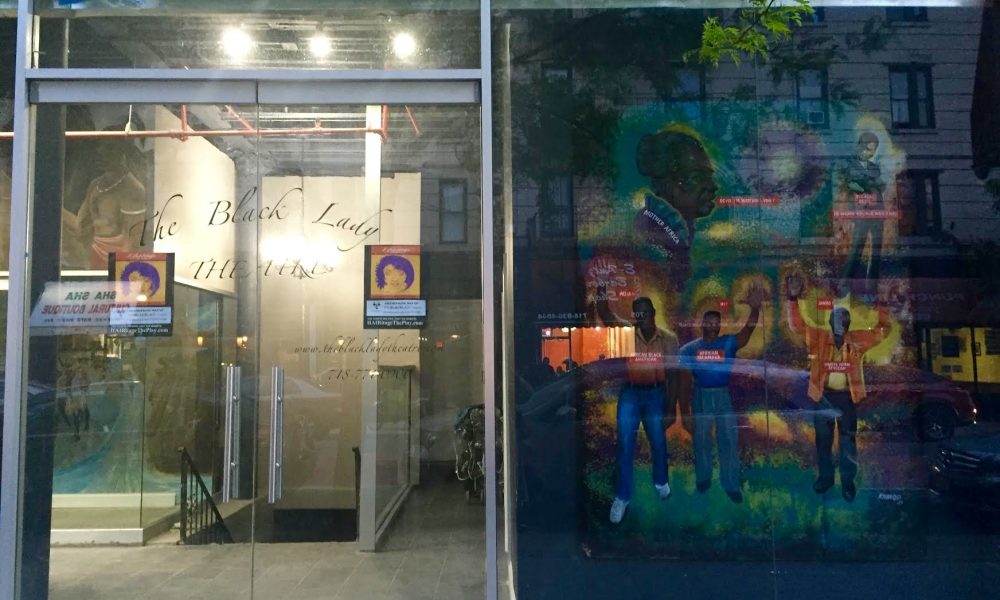 Formerly known as Brooklyn's Slave II, at first glance, the newly renovated theater simply looks like a work in progress. The landmarked space at 750 Nostrand Avenue has a complex history. The building has been closed to the public for twenty years. Now adorned with beautiful Afrocentric artwork, Omar Hardy can be seen renovating and restoring this wonderful space. He and his father Clarence are continuing the work of previous owner, Judge Phillips. Phillips wanted the theater to be a community space for plays and all types of creative endeavors and a magnificent community space it is.
Renamed The Black Lady Theater, the site officially opened its doors in Crown Heights on Friday, May 12, with new play HAIRitage, The Journey of Sistahs with Their Hair. Written and directed by Niccole Nero Gaines, opening night saw locals, file into the historic landmark theater.
The set design, simple, consisting of six black chairs. Next to each chair sits a medium-sized black cardboard box with clothing, hair, and accessories inside. Using several insightful scenarios, HAIRitage uniquely tells the evolution of the Black woman's hair.
"Often other cultures don't understand what we go through with our hair," says Yvonna Pearson, who plays Afro Hair Sistah.
Six female actors with different styles and grades of hair share how their hair has significantly contributed to who they are. The six hair sistahs are: Afro Hair Sistah (Yvonna Pearson) "My hair is revolutionary", Braided Hair Sistah (Ziaphora Dakile) "My hair is history", Colored Weave Hair Sistah (Quincie Lewis) "My hair is modern", "Good Hair" Sistah (Anna Teydie) "My hair is controversy", Loc Hair Sistah (Dianna Dixon) "My hair is natural", and Straight Hair Sistah (Blair Tate) "My hair is accepted".
The actors brilliantly tell their often painful hairstory experience of living under a system of white supremacy where the standard of "good hair" is actively and aggressively compared to the long and straight tresses of white women.
While the play opens to the rattling sounds of wrist shackles of two sistahs imprisoned by their hair, the underlying theme is, "your hair is a reflection of you and as long as you have hair on your head, it's "good hair!" Throughout the play, these six talented actors transform on stage by pulling out items from their respective toolboxes to skillfully illustrate their stories.
A few show highlights attendees must look for include: Loc Hair Sistah enlightens, "my hair attracts men who think I'm vegan, spiritual, and deep." She enthused, I'm not a deep sistah." The Hair Anonymous scene when Colored Weave Hair Sistah confesses she is in fact addicted to weave. Question – do black American women spend more money on their hair than they do their food? And the salon scene where sistahs are willing to wait hours for their miracle-working hairdresser Shameeka. They shed light on the power of the hair stylist. A sistah's got to get her hair done and sometimes by any means necessary, right?
HAIRitage runs through Friday, September 1, 2017. Tickets are only $25 and are available here.