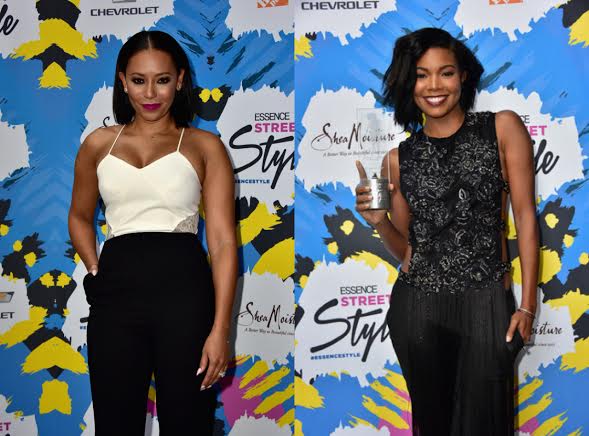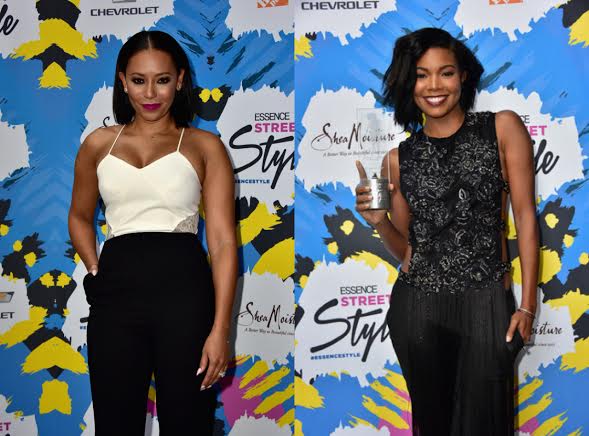 The 2nd Annual Essence Street Style Block Party took place on Sunday, August 13th in honor of New York Fashion Week and it was absolutely spectacular! Thousands of fashionistas gathered at The Dumbo Archway Under the Manhattan Bridge in Brooklyn for the event, sponsored by Chevrolet, Home Depot, and Shea Moisture and is practically the largest and most fashionable block party that Brooklyn has ever seen.
Keeping true to the vibes of a block party, there was something for everyone to do no matter the age. The crowd was filled with people who were natives to the borough, and even those that had traveled from afar to take part in the festivities. One of the key components to a great block party is the tunes, but there was no issue as we had DJ Tiff McFierce and DJ Olivia Dope on the 1's and 2's. They led the party with old school dances as they took party go'ers down memory lane musically. If you ever have an event, consider these two as you won't be disappointed. Two female disk jockeys killing the game right now and also making it very possible for women to aspire and dream to be a DJ.
The beautiful Dana Blair was the host for the afternoon and featured a special mix of music, fashion, art and culture while act like vocal powerhouse, Andra Day stunned with a live musical performance. Gabrielle Union-Wade was the honoree of the "Closet Crush" award, a prestigious award —honoring one's exquisite closet gems. If her acceptance outfit was only a sliver of what she owns, we think the award is well deserved and we are dying to see the rest of her closet. She left the crowd with some awesome advice as well, saying that the best advice is to not take any advice.
Don't think for one second the Essence is going to have a block party with the theme being street style without incorporating the audience somehow. Lucky guests got the opportunity to rip the runway in a fashion show, co-hosted by your favorite Spice Girl, Mel B.
Aside from the festivities of the block party, what made the entire event complete was the street style. Check out some of our favorites from the 2nd Annul Essence Street Style Block Party below:
Debra Hare-Bey of Hype Hair Magazine, IG: _omhhredroom
Outfit – Shirt: H&M; Boots: Anthropology; Glasses:Meow & Barks Boutique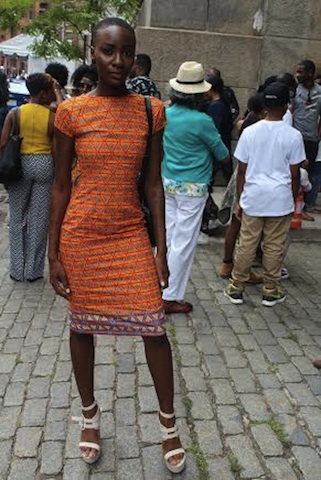 Destiny Owusu, IG: ohwawa
Outfit – Dress: Cookies Armoire; Shoes: Steve Madden
Inspiration – Simple; she wanted to support an African designer. Owusu also recently walked in her first NYFW!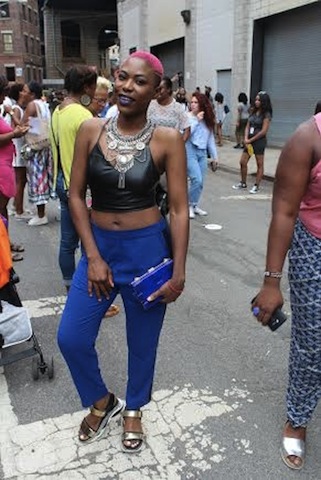 Outfit – Clothing: Forever 21; Accessories: Aldo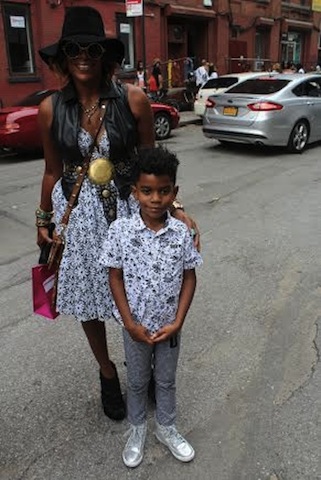 Marlene, and her son Maximus IG: mdotstyles
Outfit – Marlene's Dress: Gaultier for Taget; Vest: Vintage; Glasses: Cleo Nicci; Shoes: Jeffrey Campbell; Hat: Urban Outfitters
Outfit – Maximus' Top: Ralph Lauren; Jeans: Mimi for Target; Shoes: Stevies
Inspiration – Personal style, mix and matching, and a little 70's vibe.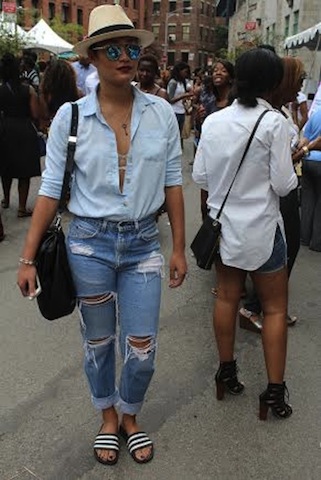 Outfit – Shirt: Club Monaco; Jeans: Levi's; Glasses: Dior; Slippers: Adidas
Inspiration – Casual chic!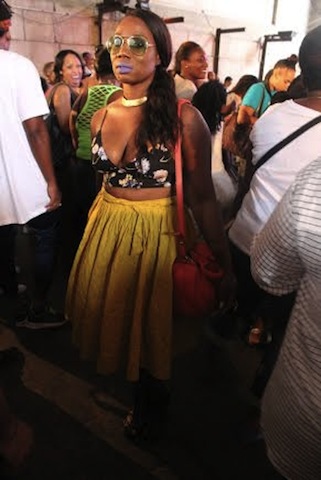 Outfit – Top: Forever 21; Skirt: Jean Paul Gaultier for Target; Shoes: Aldo; Bag: Alexander Wang.
Inspiration –  "Black Girl Magic"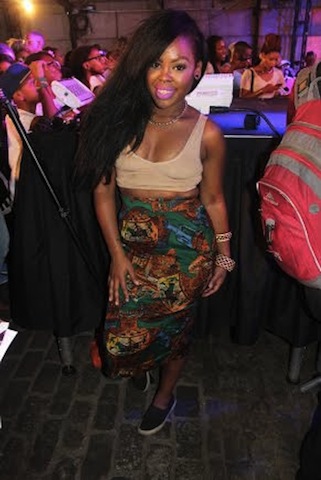 Outfit – Everything is thrifted. Top: $1.99, Bottom: $2.99!
Inspiration – Getting back to roots and culture.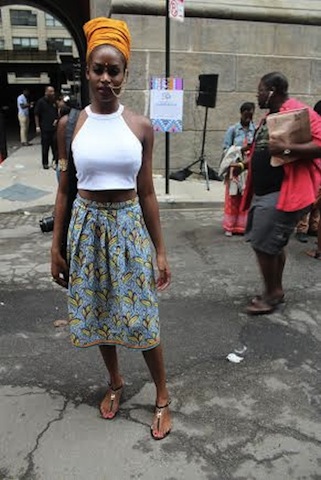 Entire Outfit– Zara; Headwrap: Etsy; Jewelry, handmade
Inspiration – Nubia, Effortless Regality.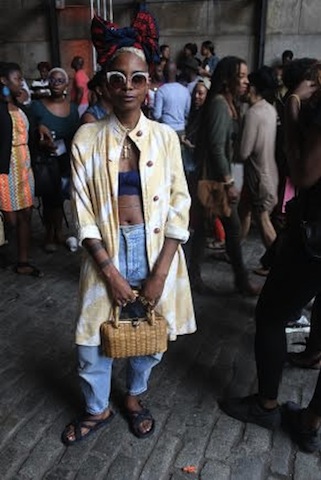 Outfit – Head Wrap: The Wrap Life; Jewelry: L'enchanteur; Top: Vintage Mobile; Jeans: Vintage Guess; Shoes: Opening Ceremony.
Inspiration – Picture traveling to the 60's, hipster mod conscious!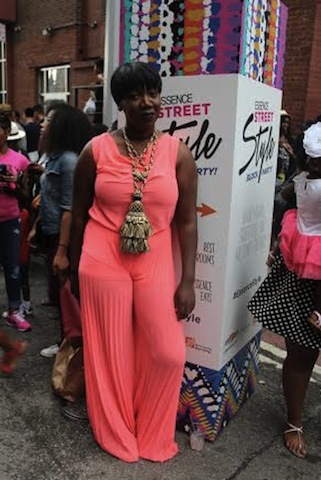 Outfit – Romper: Roxx By HotPoint; Necklace: Tassel from the fabric store; Shoes: Aldo
Inspiration – Simply not having anything to wear!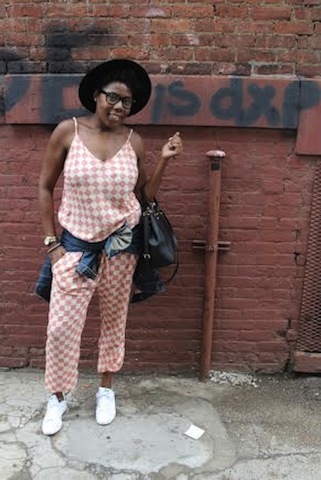 Tenesha, No Instagram
Outfit – Romper: Jach's Girlfriend; Jacket: Levi's; Sneakers: Adidas; Hat: H&M; Bag: Michael Kors
Inspiration – Relaxed chic!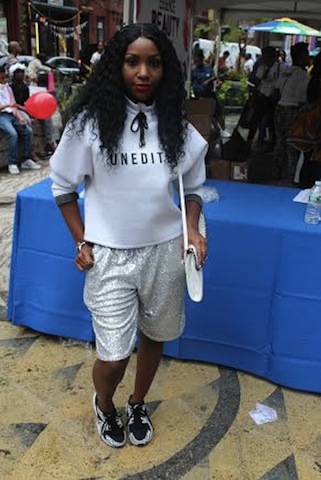 Outfit – Top: Forever 21; Pants: Thrifted; Sneakers: Huaraches; Bag: TJ Maxx
Inspiration – Street chic, tomboy.