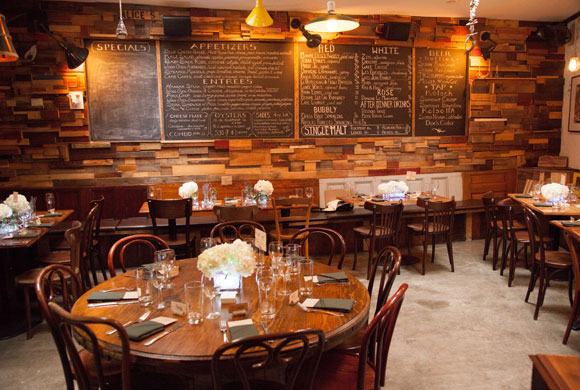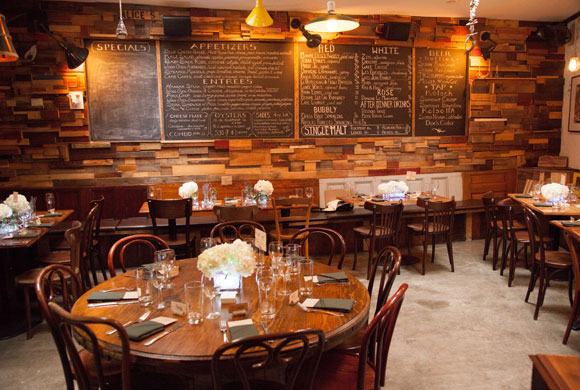 Location

Food

Service

Dining Experience

Average
On the border of Clinton Hill and Bed-Stuy stands Alice's Arbor (549 Classon Ave.), a charming oasis bringing daily fresh farm-to-table dishes to Brooklyn. Spearheaded by restaurateur Dimitri Vlahakis, general manager Haroun Khalek, and Brooklyn-based chef/partner Mike Franzetti, the restaurant is the epitome of "community."
The cabin like interior is filled with rustic communal tables, cozy booths adorned with repurposed wooden doors, mounted antlers, and paintings by Brooklyn-based artist Alan Aine.
The menu is seasonal and everything is created with fresh locally sourced foods. New Jersey and New York State farms and nearby community gardens supply high quality ingredients. The fresh kale salad ($11) topped with avocado, apples, roasted almonds, pecorino and fig-sherry vinaigrette and the buttery crisp Sullivan County Farm trout ($22) seasoned with lemon, capers and brown butter over roasted fingerlings and crisp green beans are my personal favorite.
Other recommended dishes include the squash ragout ($22); macaroni and cheese with truffle oil ($19); and baby-back ribs and collard greens ($22). Gluten-free and diary-free options are also available upon request.
Locals love Alice's Arbor.
While sampling the menu, I couldn't help but notice a gentleman being seated and prepared to dine alone before the bartender called him over to the bar so he would have company.
A couple who live in the area, brought their family, who had been visiting for the holidays, to dine at "their favorite neighborhood restaurant." Anna, my server for the evening, doubled as their waitress and catered to the family of seven like they were her own. Anna, who explained she was fairly new — only working at the eatery for three months — knew the menu as if she were a veteran. She offered specials in great detail with a friendly demeanor and the couple took to her quickly. Getting to know Anna in the matter of minutes — having discovered they were all from the same state — the family invited her over for holiday dinner so they can serve her.
The drinks are just a superb as the food. The beverage menu, hand-selected by Haroun Khalek are filled with biodynamic, organic or sustainable wines and a cocktail list filled with drinks made with American spirits, locally made bitters, and market ingredients. Try the Bed-Stuy Run — a combination of London gin, fresh ginger syrup, lime juice and lemon-ginger-honey kombucha from sister restaurant Esperanto. The bar also offers 11 different beers on tap from breweries based in Brooklyn and New York.
While you plan to go to a restaurant for good food what makes you come back is incredible service. Alice's Arbor goes above and beyond to give you both.
Alice's Arbor is open Monday through Thursday 9 a.m. to 11 p.m., Friday 9 a.m. to 12 a.m., Saturday 10 a.m. to 12 a.m. and Sunday 10 a.m. to 11 p.m. Visit the restaurant on weekdays for breakfast, lunch, dinner, and weekends for brunch and dinner.