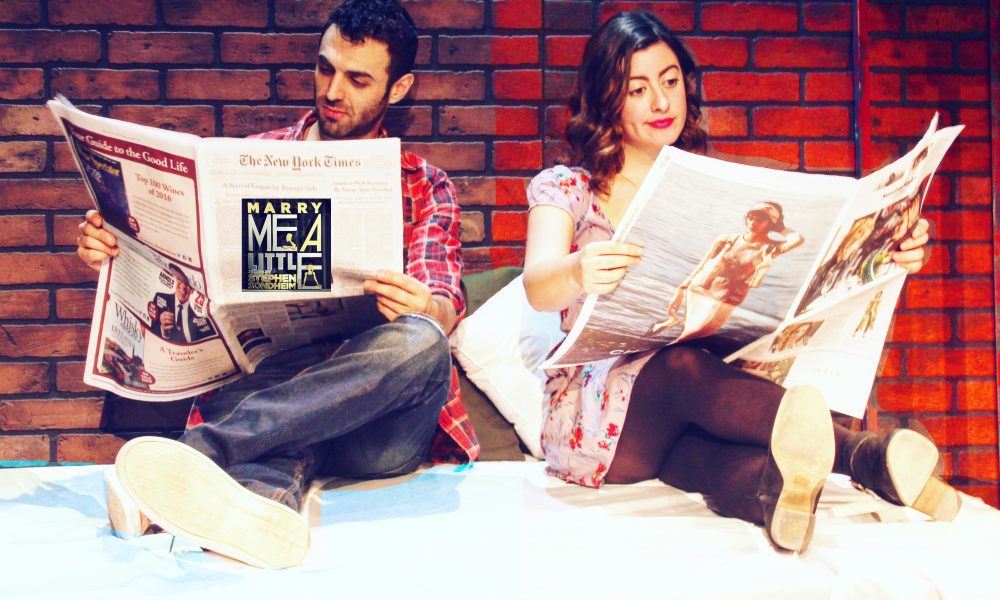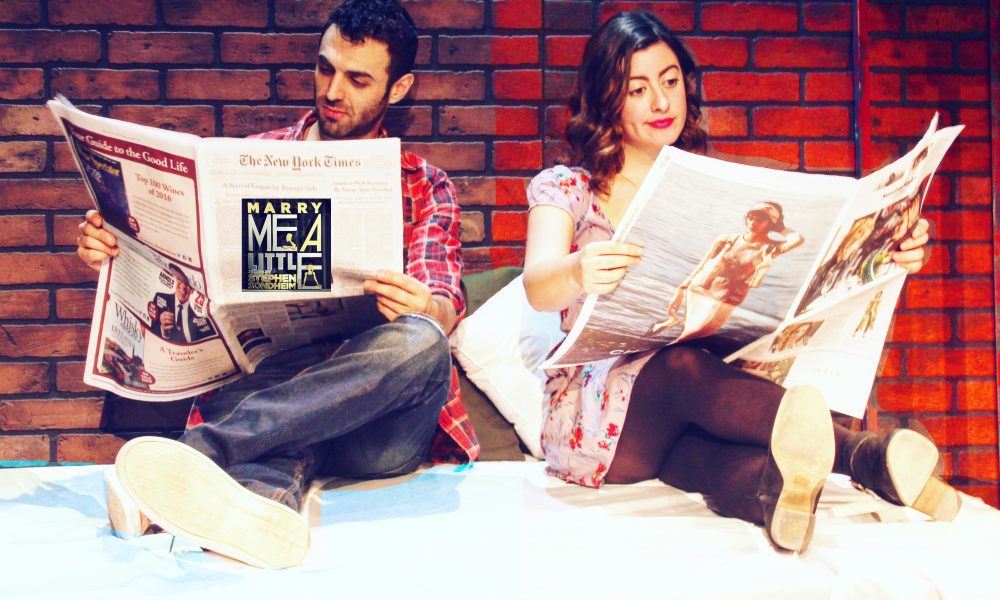 You live in Brooklyn, the most populated, most vibrant, most vital borough in New York City. You are surrounded by nearly 3 million interesting people bustling around in several diverse neighborhoods. You are on the go, working hard, and playing harder. You walk by strangers daily on the street and don't dare make eye contact. In the Big Apple, you find yourself alone and lonely.
Two lonely strangers, who actually make eye contact once, living in New York City, in the same apartment building, one floor apart, are the focus of the musical Marry Me A Little. Many Brooklynites can relate to this theme and need to check it out.
Marry Me A Little opened Thursday, January 26, 2017 at 8:00 PM in Brooklyn. The Gallery Players, 199 14th Street in Park Slope, will present songs by Stephen Sondheim in a musically clever production conceived and developed by Craig Lucus and Norman Rene, for a limited engagement.
Him (Jesse Manocherian) and Her (Alyson Leigh Rosenfeld) share a single uncluttered and inexpensively decorated duplex that serves as both apartments of Paul M. Radassao's set design. The apartment gives an unfinished and unsettled feel as Alyson unpacks and discards her personal possessions in her tough leather and suede boots.
The uncouple acknowledges the other's existence exclusively in song. No words are spoken throughout the entire play. Jesse fiddles from time-to-time with his MacBook. It makes you wonder whether he is hesitantly considering signing up for Match.com.
The original version of the musical was produced off-Broadway in 1981 with the typical gender-normative casting of Him and Her. Modernizing the production, Director Barrie Gelles has incorporated three different cast member duos and three variations of the story. In addition to duo Manocherian and Rosenfeld, on select evenings duo Him (Adrian Rifat) and Him (Paul Williams) and duo Her (Laura Cetti) and Her (Cassandra Dupler) make the plot a uniquely relevant theatrical experience.
The orchestra consists of a piano passionately played by Yi-Hsuan Chi. The musical number "Saturday Night" drives home the point of how alone these characters feel. "When you're alone on a Saturday night – you might as well be dead!"
One of the show's highlights on opening night was Alyson's rendition of "Can That Boy Foxtrot" – pronounced "Fucks-trot." As she powerfully sings the song, she elicits the audience's laughter on cue while skillfully morphing into several different characters before their eyes.
Marry Me A Little as the title song suggests is life and love in the big city. There are walls, sometimes physical but many times emotional that block a couple's spiritual growth:
"Marry me a little,
Love me just enough.
Cry, but not too often,
Play, but not too rough.
Keep a tender distance
so we'll both be free.
That's the way it ought to be."
For more information and to purchase tickets visit GalleryPlayers.com.