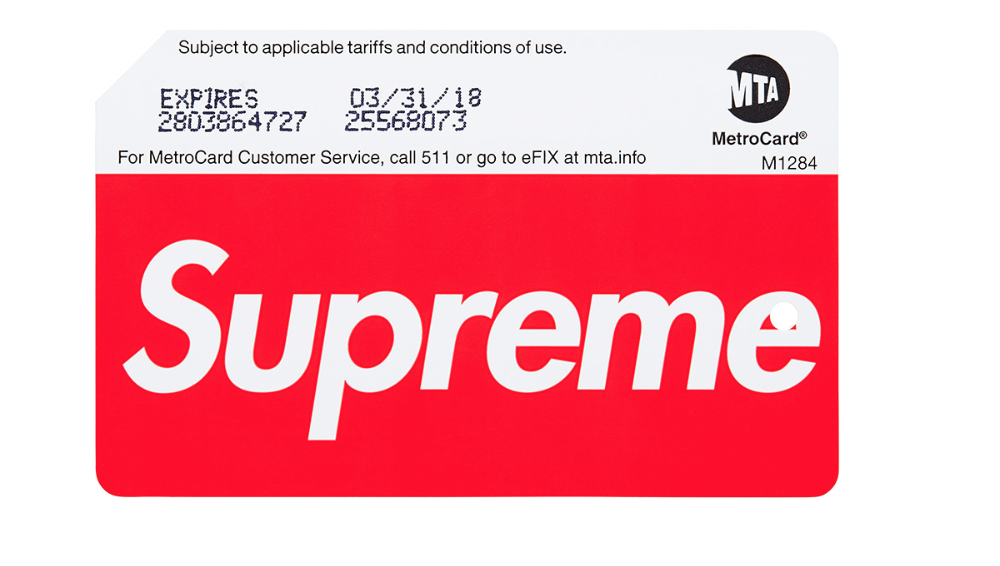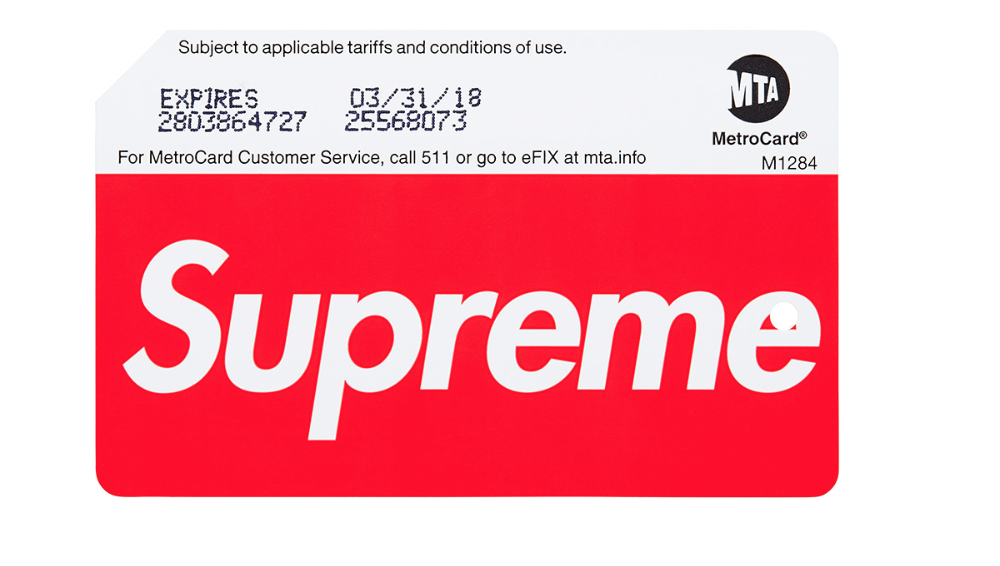 Sportswear brand, Supreme collaborated with the Metropolitan Transit Authority (MTA) on a set of limited edition MetroCards and if you weren't lucky enough to snag one on initial release, it could cost you a pretty penny.
On Friday, February 17, teens circled Supreme's flagship store in Soho, NYC and various subway stations in Manhattan, Queens and Brooklyn (Marcy Avenue, and Atlantic Avenue stations) racking up on their new red and white Supreme MetroCards. The cards were sold with two fares at $5.50, as part of the label's Spring/Summer 2017 collection right in the midst of New York Fashion Week.
Needless to say the cards sold out quickly but Ebay and Craigslist resellers racked up and are selling them at outstanding prices. The resale sites are currently auctioning them off online at markups between $20 and $955, according to DNAInfo.
"It's stupid but if you can capitalize off of it why not?," says Department of Transportation (DOT) worker, Joseph Caballero. "No matter how stupid it is someone is willing to buy it."
"I don't judge how anyone spends their money on eBay," MTA spokeswoman, Beth DeFalco told DNAInfo.
Over the weekend, many took to Twitter to share their personal comments, photos and videos regarding their excitement.
New Yorkers: We want cleaner trains, safer stations, better service, lower fares.

.@MTA: Nah, you get SUPREME Metrocards

— Just Matt (@FreeConcerts) February 21, 2017
I hope you all lose your supreme metrocards

— BLATT (@Jessie_Wessiee) February 21, 2017
Those fashion edgelord teens who only shop in soho and 'stunt' in supreme but still use their student metrocards pic.twitter.com/0LgMfNIMg7

— DEMJIN (@ROBlNOUT) August 13, 2016
Will you be grabbing one?