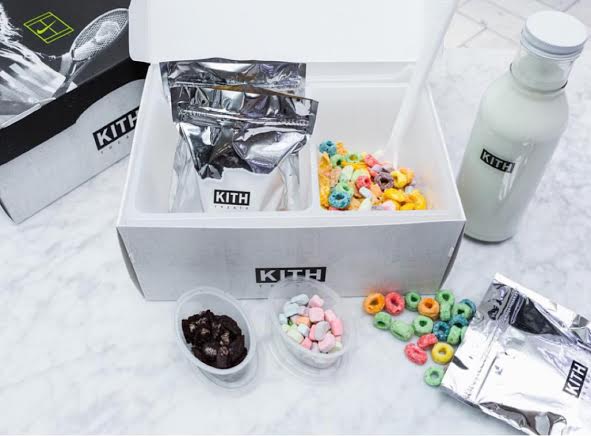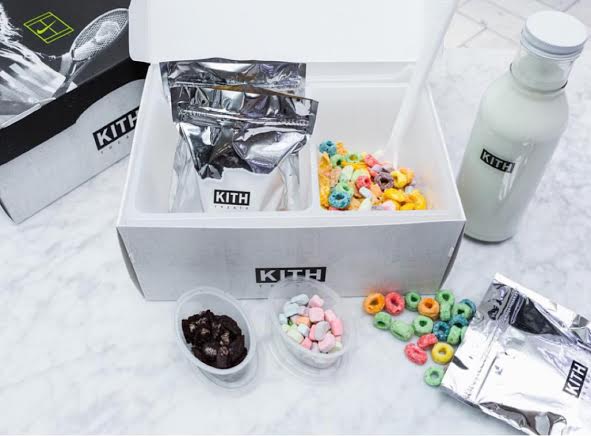 Tomorrow, Brooklyn will gain its first cereal bar and I couldn't be any more pumped, although when OurBKSocial first reported the story of Kith's Prospect Heights store re-opening with said bar, Twitter fans weren't exactly happy.
Twitter user @Kingkroba stated "Enough of this bullshit…tired of this Peter Pan generation." "Let's wear our animal onesies to the bespoke artisanal cereal bar," Twitter user @Fleetwood412 followed up with.
While everyone won't be satisfied with the new shops opening up in Brooklyn — Kith Treats — the 150 square foot cereal bar, has me extremely excited. The specialty bar will feature 24 types of cereals, five milk options (yes, there will be almond and hemp milk for you non-cow milk drinkers) and 25 topping choices. Cereal can be ordered at as many as three servings at a time and creations come equipped in fancy mini shoe-like boxes whose designs will change with different Kith collaborations.
"My obsessions are footwear and cereal," said Ronnie Fieg, owner of Kith NYC, on Instagram. "Now I'm in a position to combine the two. I've been working on something crazy for Kith Brooklyn. Something I've been thinking about since I was 13 years old."
While Kith Treats is exciting, this is only an addition to their re-done sneaker shop. Kith Brooklyn will continue to sell exclusive sneakers and clothing from top brands like Air Jordan, Nike, Adidas, Birkenstock, Buscemi and more.
Still asking, why the hell do we need a cereal bar in Brooklyn like the above Twitter users? Here's why:
Brooklyn is "Outside The Box" and so is a cereal bar. It's the same idea as the frozen yogurt favorite, Pinkberry, just with Captain Crunch, Fruit Loops, Frosted Flakes and skim milk.
Not a cereal fan, Kith Treats will also serve up water, hot chocolate, tea, and coffee from La Colombe. I mean, COME ON! All this in a sneaker stop is way too dope.
It was the owner's childhood dream to create this one-of-a-kind shop. Brooklynites could use this motivation. Dreams do come true and to always Dream BIG.
Kith Treats is open from 7 a.m. to 11 a.m., so it's not like you'll be eating cereal for dinner  (although I know a few people who would love that); it's still a breakfast option.
Kith Treats personal cereal box comes with a Kith x Nike proof of purchase ticket. Redeem 4 tickets for a Nike x Kith tennis ball packaged in a plexi box.
The cereal is pretty cheap, considering you get a box, individually packaged cereal in branded mylar bags, a special spoon/straw and a 12oz milk bottle at 2 cereal servings $6 or 3 cereal servings at $7.
So who wants to tag along and grab some exclusive cereal?