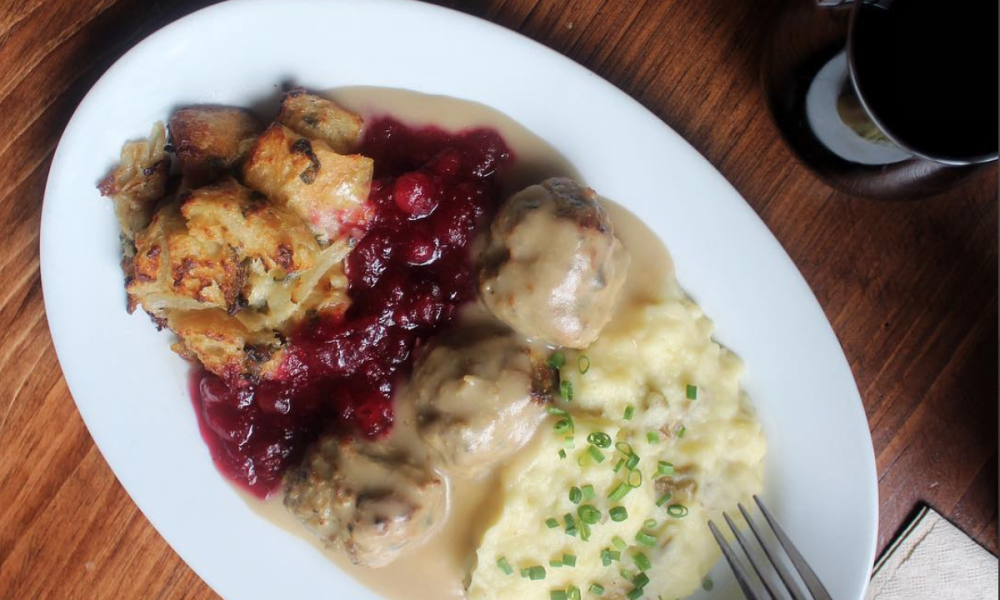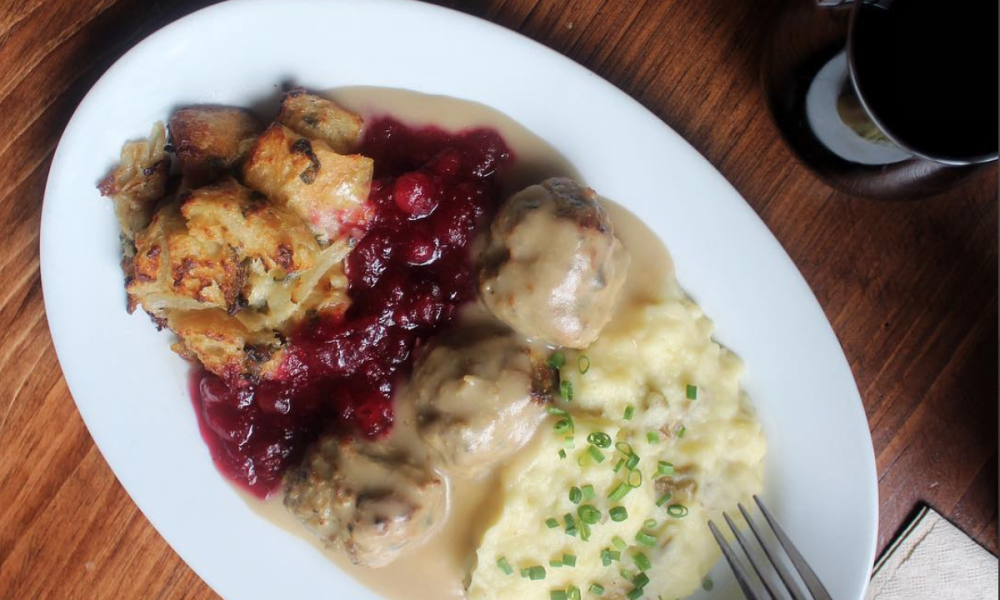 Thanksgiving is almost here, and while some are slaving in their kitchens, many prefer to go out, eat at a restaurant and have someone else worry about the clean-up.
You can still indulge in all the turkey, stuffing, mashed potatoes, cranberry sauce, pies and cobblers, just reserve take a moment to reserve your spot and gather your coins. Many of these restaurant are NOT cheap.
Here are the best places in Brooklyn to grab a Thanksgiving-like meal:
by Chloe.

Williamsburg, 171 N 3rd Street
Vegan fast-food heaven, by Chloe. is serving up all your favorite Thanksgiving faves in one glorious sandwich — without the meat. The "Gobble Gobble" includes lemon-caper seitan, sautéed kale, rosemary gravy, harvest stuffing and fresh cranberry sauce all stuffed into a potato bun. The sandwich will be available throughout November, including Thanksgiving day where the Williamsburg location will be open from 11 a.m to 7 p.m. Don't forget to try their spiked apple cider to get in full holiday mode.
Sweet Chick
Williamsburg, 164 Bedford Avenue; Prospect-Heights, 341 Flatbush Avenue
All of your traditional Thanksgiving fixins in a non-traditional way. Brooklyn's favorite chicken and waffle joint is serving up turkey leg confit served with a stuffing waffle, mashed potatoes, apple sausage gravy and cranberry compote. Though the restaurant is closed on Thanksgiving day, the entree will be available throughout the rest of November and all through December.
The Meatball Shop
Williamsburg, 170 Bedford Avenue
For all the meatball lovers, the Meatball Shop is serving  a Thanksgiving special that features its "Gobble Gobble Balls," which is a mix of turkey, stuffing, cranberries and herbs. The whole meal includes three turkey meatballs, one stuffing meatball, cranberry sauce, gravy, roasted Brussels sprouts, mashed potatoes and a glass of house red wine, for $25 per person.
Cafe Colette
Williamsburg, 79 Berry Street
Cafe Colette is keeping it traditional, inviting friends and family to have a seat at the table with them. Catering to vegetarians and pescetarians, their $60 menu will seat guest from 2pm – 5pm. For reservations and large parties call 347-599-1381.
Palo Santo
Parks Slope, 652 Union Street
Feliz día de acción de gracias! Palo Santo invites all to season their Thanksgiving dinner featuring a 5-course Latin menu. From 2 p.m. to 8 p.m. dine on your traditional turkey loaded with brown butter gravy, cranberry, green beans, boniato and butternut squash, brussel sprout salad, pumpkin pie or chocolate walnut bread pudding. Adults are $75 and children are $25.
Atrium Dumbo
Dumbo, 15 Main Street
Spending the holidays with a loved one? Atrium Dumbo is offering a holiday inspired, 3-course prix-fixe menu featuring items like butternut squash soup, baked halibut, organic roasted turkey and apple tart streusel for $80 per person and an optional $40 per person wine pairing from their own Master Sommelier Alexander LaPratt. Visit here to view full menu and book a table.
Antica Pesa
Williamsburg, 115 Berry Street
Antica Pesa's Itialian eatery, will open their doors for Thanksgiving dinner from 5 p.m. to 10 p.m. They are expected to feature a few Thanksgiving themed specials with extra special desserts from Ovenly. Resets like Pumpkin Toasted Marshmallow Pie, and Bourbon Pecan Pie will complete your meal. Click here to reserve a table.
L'Antagoniste
Bedstuy, 238 Malcolm X Blvd
Make your way to Bedford-Stuyvesant where Thanksgiving faves like Brussel sprouts, sage and garlic marble potatoes, apple pie, and of course farm roasted turkey from the Misty Knoll Farm in New Haven, Vermont will be served with a taste of France. The pre-fixe menu will serve from noon til 10 p.m. for $44.50. Visit here for full menu.
Wallabout Seafood & Co.
Forte Greene, 271 Adelphi Street
Let's dive in! Wallabout is celebrating Thanksgiving with their three-course, $65 pre-fixe menu.
Their menu includes butternut squash soup, oysters and salad for starters, whole roasted turkey with classic trimmings as the main course, and pumpkin cheesecake and apple pie for dessert.
Buttermilk Channel
Carroll Gardens, 524 Court Street
Thanksgiving dinner for a cause! Thursday's dinner is priced as $80 per person and $50 for children under 12, and 15% of the price of the menu will be donated to Neighbors Together. Neighbors Together is  an organization that provides free meals in Brooklyn's poorest neighborhoods. Large parties are welcomed but encouraged to reserve a spot here.
Frankies 457 Spuntino
457 Court Street
This year, Frankies 457 Spuntino and Prime Meats will serve a three-course Thanksgiving menu from 11am to 10pm. The prix-fixe menu features traditional Thanksgiving classics and is priced at $70 (plus tax + gratuity) & $34 (plus tax + gratuity) for children.
Reynard
Williamsburg, 80 Wythe Avenue
Reynard is inviting all to celebrate Thanksgiving with them Brooklyn style! Besides their beautiful space at the Wythe Hotel, Reynard is offering a three-course meal from 12 p.m. to 8 p.m. The menu highlights include apple and sunchoke salad, whole wood roasted cauliflower, and a choice of wood-kissed turkey, rib of beef, or coal-roasted honeynut squash, along with an abundance of sides. For dessert, top the evening off with either a chocolate budino or apple pie. Dinner is $95 per person and children 12 and under are $52.
Vinegar Hill House
Vinegar Hill, 72 Hudson Avenue
Sandwiched between Dumbo and the Brooklyn Navy Yard, Vinegar Hill House is offering a three-course pre-fix menu of traditional turkey with authentic trimmings like stuffing, mashed potatoes, Brussel sprouts, sweet potatoes, cranberry chutney, and a choice of pecan or pumpkin pie. The cost to dine in is $95 per person and $50 for kids ages 8 and under. Due to the high volume of reservations, there are two dine in times, early (2:30, 2:45, and 3) and late (5:15, 5:30, and 5:45).  Each party will have two and a half hours only for their reservation. Reservations can be made here.
Celestine
Dumbo, 1 John Street
Who wouldn't you want to enjoy dinner with a view? Celestine is bringing the holidays to Dumbo with their own traditional Turkey Day menu and lovely views of the Manhattan Bridge and the skyline. The menu is $78 per person and includes starters like potted foie gras or brown butter sweet potato soup, mains like roast turkey with chestnut stuffing or braised short rib, and sides like bruleed yam casserole and roasted brussels sprouts. As for dessert, Four & Twenty Blackbirds is supplying pumpkin pie.
Meadowsweet
Williamsburg, 149 Broadway
You can have it your way at Meadowseet with their  $95 three-Course Thanksgiving menu, catering to vegan and vegetarian diners. Children 12 and under will be $45. Dinner will be served from 1pm to 9pm.