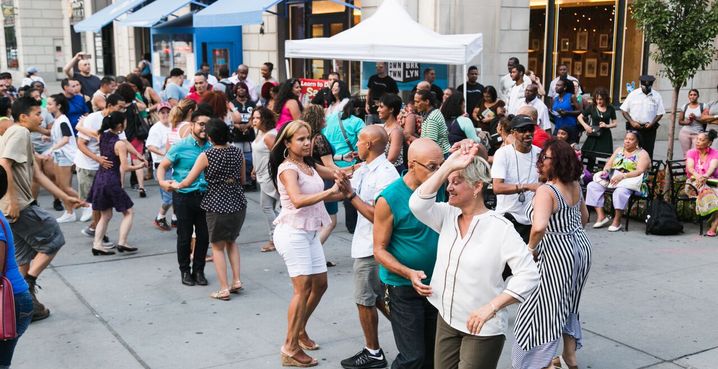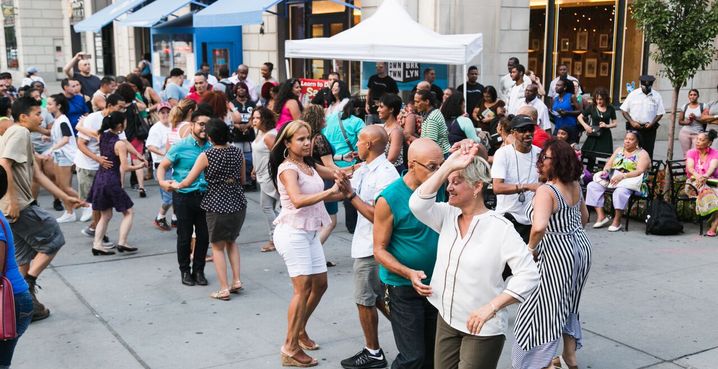 Every Wednesday this month, Willoughby Plaza off of Adams Street and the Fulton Mall in Downtown Brooklyn, will host FREE dance classes for locals.
Bust A Move Dance Nights, Downtown Brooklyn Partnership's popular outdoor dance series, will teach you a few dance moves during their themed classes and then cut loose to impress your dance partner, friends, and passerbys. Last week's kick off event featured a Salsa evening with DJ John John and Park Slope's Salsa Salsa Dance Studios spinning the tunes and teaching the basics of salsa dancing.
Tomorrow, September 14, will feature last year's People's Choice – The Hustle. Attendees are encouraged to wear bell bottoms (though not required if you happen to fall right in) and come out to learn this '70s classic and then channel your inner John Travolta from "Saturday Night Fever" all night with DJ Beto. Wednesday, September 21 will feature the unique rhythms and basics of Samba, while Wednesday, September 28 will host another People Choice selection with five available selections from Hip-Hop, R&B Line Dancing, Salsa, Afro-Carribean, Latin and Salsa. Hip-Hop is currently leading with 42% of the casted votes.
The classes start at 5 p.m. and last until your feet get tired. Cast your vote here for the final dance class theme.