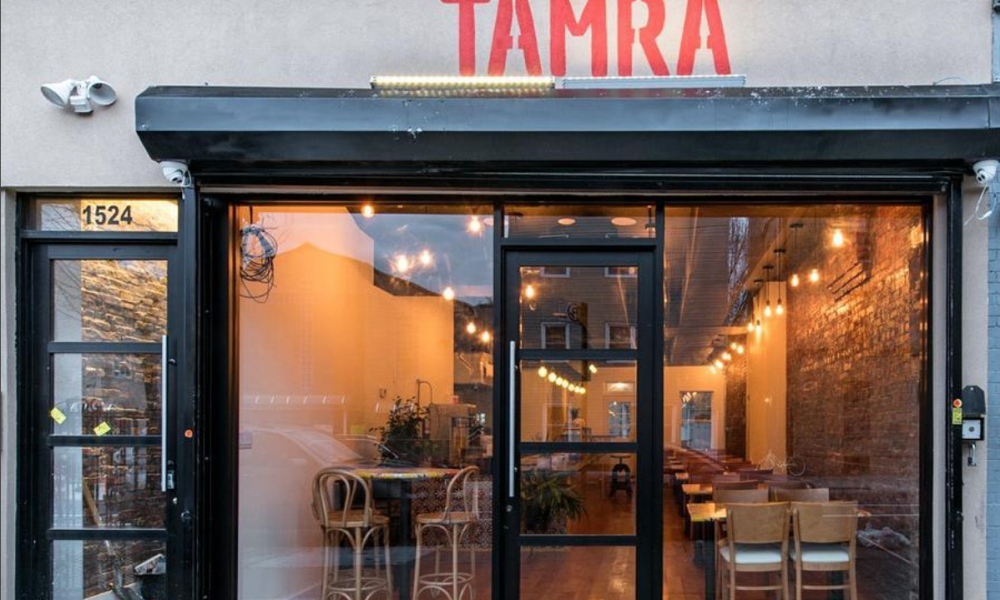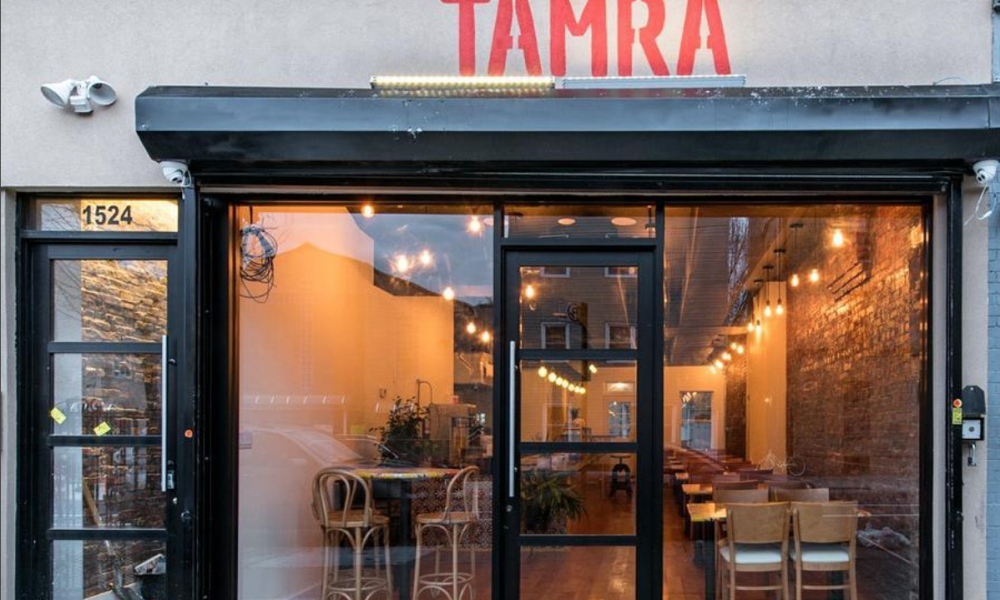 Location

Food

Service

Dining Experience

Average
Tamra Teahouse
is an Asian comfort food restaurant serving Asian-inspired dishes and medicinal teas in northeast
Crown Heights
. With generous portions and affordable prices, this unique addition to the neighborhood is an excellent spot for a meal, a snack, or even just a coffee or tea. Three weeks after its grand opening, I went in for an up close and personal look.
An Unlikely Partnership with Remarkable Results
Some say the "American Dream" is dead. Apparently no one told Yunha Moh, Tamra's 28-year-old owner and head chef. Moh, from a working class Korean family, saved up $700 by working on a farm in his hometown in Indiana to get himself to New York City.
He earned a degree in Economics from NYU, solely focused on achieving some financial stability. He took a pragmatic approach to his education, foregoing his creative interests. After graduating, he landed a lucrative job as a management consultant in 2012's tough job market. When some bad luck led to his being laid-off, Moh took a part-time job as Momofuku's bookkeeper.
Next thing he knew, he was working along side their pastry chef learning how to bake. Realizing he enjoyed cooking, Moh spent the next few years honing his skills in several New York City kitchens. This journey ultimately landed him a sous chef position at a Thai restaurant called The Lucky Bee.
Enter Draman Berthe, an ambitious, entrepreneurial chef from Mali, West Africa. Berthe came to New York at 18 with less than a dollar and an abundance of dreams. With no connections in NYC, he befriended passengers on his flight from Africa who offered him housing upon arrival.
As a meat deliveryman, he got to know the owner of French restaurant Cafe Loup, one of his customers. Berthe, fluent in French, began translating menu items for the owner. Eventually, he started working at Cafe Loup, working his way up to sous chef. After leaving, he landed at The Lucky Bee and met equally ambitious and entrepreneurial Yunha Moh.
The two took quickly to one another, and soon began to lay the groundwork for what is now Tamra Teahouse. Growing up, Moh frequently ate fast food at family meals. He envisioned Tamra as an alternative, with a menu revolving around diners' wellbeing. For the past three years, the unlikely duo has operated Tamra as a pop-up restaurant around Brooklyn. That all changed three weeks ago, when they opened their permanent location in Crown Heights, just off of Utica Avenue.
The opening came after months of hard work. Moh and Berthe redid the interior of the restaurant themselves, with a few friends' help. Throughout the project, they put in hardwood floors, built a bar, and modified one of the walls, and much more. Opening the permanent space was an achievement in and of itself, but it was only the beginning for Tamra.
Intimate and Enjoyable Dining Experience
All the hard work that went into modifying the restaurant paid off. The result is a cozy yet spacious interior full of natural light and bright, colorful patterns — hibiscus flower-printed tablecloths, intricate patterned wallpaper lining the counter space, and trippy, whimsical paintings by local artist Tingting Wei.
Customers order at the counter and take a seat at the ample table space, complemented by a few high-top and bar seats. Moh takes orders and payments, preps food and drinks, then serves the food and busses tables after diners have finished. Berthe mainly sticks to the kitchen, but he came out to give me a firm handshake and a hearty smile that I appreciated.
Medicinal Tea Tasting
Apparently I witnessed Tamra's busiest brunch since opening, though I'd have never guessed from their calm and precise execution of each order. Initially overwhelmed (and excited) by the abundance of options on the menu, I mulled over the selection while sampling a few of Tamra's specialty teas ($3 small/$4 large).
The turmeric latte with a shot of CBD oil, a wonderful anti-inflammatory remedy, had a mildly sour turmeric taste. The CBD gave it a thick, oily texture. I didn't enjoy the taste, but would drink it again for its healing properties alone.
Next, I tried the rose tea. Mainly associated with alleviating common menstrual symptoms (something this writer has never experienced), this tea also improves urinary tract and liver health. The tea was simple and exactly what it sounds like. Made of a few delicate rosebuds floating in hot water, it smelled fragrantly of roses and tasted the same, but with a hint of sweetness. Very pleasant.
Third was the holy basil tea, served traditionally in a tea bag with a straightforward, leafy basil taste. Holy basil tea is renowned for its ability to reduce and relieve stress and anxiety. As an aspiring writer living in New York City, I've experienced plenty of both and welcomed the tea's calming effect.
Finally, I tasted the Korean citron tea, my personal favorite. The tea was as sweet as a grandmother's hug, with a light and fruity aftertaste. Citron helps with cold symptoms: congestion, a sore throat, or a cough. With such cheerful flavor, this tea will be the silver lining of my next cold.
Snacks and Salads
After careful deliberation, I kicked off the meal with Tamra's Wings ($5). Marinated in soy sauce with garlic cloves and coriander root, then fried with rice flour, the wings hit the table with steam rising off of them. These budget-friendly wings make for a quick and high quality snack. Pair them with fries for an extra $3 to make a full meal.
The sweet chili sauce served alongside the wings cranked the dish up to eleven. Made from scratch, the sauce packs a punch that would send Rocky Marciano reeling. It left my mouth pleasantly hot — not on fire like a traditional buffalo sauce. Although it wasn't extremely spicy, spice-averse diners may find it too much to handle. Unlike many syrupy sweet chili sauces, Tamra's rendition was very light and complemented the crispy wings perfectly.
Within the Snacks and Salads section of the menu, Tamra offers a litany of unique options great for those unavoidable in-between meal cravings. There's the Vegan Soul Mac ($4), made with an inventive almond milk cheese sauce or the Pineapple Salad ($8), a creative combination of pineapple, mint, Chinese celery and cabbage, among other options in the $4 to $9 range.
Brunch
Since I was there during brunch, I opted for Tamra's most popular brunch item next: Avocado Tostones Toast ($8). Its eclectic array of vibrant colors and beautiful presentation induce instant mouthwatering as the dish hits the table. From the bottom up, several thin, dense tostones support a healthy portion of sliced avocado topped with curtido, shredded collard greens, and diced tomatoes. Across the top of the dish is a Jackson Pollock-style splatter of psychedelic purple coconut beet sauce. The dish is mildly sweet and tropical, a handsome brunch option for those looking to keep it light.
Several other brunch diners ordered the avocado toast, as well as the buttermilk pancakes ($6). As Berthe prepared each dish on the griddle, the restaurant filled with the delicious smells of the food. In just six items, the Tamra brunch menu has something for every appetite. For the adventurous and upscale brunch enthusiasts, they have Steak and Eggs ($18) with jasmine rice and pickled daikon or the Peruvian-style Ceviche ($14), made with tilapia, corn, red onion, sweet potato, and habanero chilis. For traditionalists, they have an Omelette ($7) and Huevos Rancheros ($11).
Dinner
Tamra's dinner menu has two sections: Noodles & Curries and Grilled Dishes. Within the Noodles & Curries section, there are eight dishes in the $9 to $14 range that will suit almost any diet. Vegetarian and gluten-free options abound, like the America Curry ($11). Made with roasted apples, corn, potatoes, coconut milk, chadon beni, pickled daikon, diners would be hard pressed to find a similar dish anywhere in Crown Heights, or maybe even anywhere in Brooklyn.
I tried the Spicy Basil Chicken ($10). The saucy chunks of chicken thigh and ample portion of rice make for a hearty and filling meal. At this point I was stuffed, but powered through the dish because I couldn't get enough of the spicy basil flavor.
Dessert
After a short break, I mustered up the appetite to order a slice of sweet potato pie ($5), something I'd seen on the Tamra Instagram. When Moh dropped the delicious pie off, he explained it included the leftover pieces of sweet potato from making the Peruvian ceviche. This was just one example of his resourceful and pragmatic approach to resource and supply chain management.
Dreams of a Healthy Future
Not only does Tamra operate with almost zero food waste, but Moh intelligently sources his ingredients from wherever he can get them cheapest. Consequently, most of Tamra sources mainly within the Americas, limiting the traditional Korean ingredients used in the menu.
This cost-conscious sourcing approach forced Moh to explore the creative side of his brain. The result is an inventive menu with unexpected combinations of flavors. The dining experience is all about balance: balancing sweet and sour and spicy, or blending Korean and Latin American cuisine with American soul food. Tamra's menu is the culinary equivalent of a back handspring back tuck balance beam dismount that sends the crowd into a frenzy.
While we chatted after the brunch rush, Moh explained his vision for the future. Although he enjoys cooking, he'd eventually like Berthe to become head chef. This would allow Moh to open other healthy and affordable restaurants in other locations and promote awareness of the benefits of medicinal teas. "I know everyone isn't going to pay three dollars for a turmeric latte everyday, but everyone can afford the turmeric paste I use to make the tea," he said. He imagines a future where "every corner deli" sells medicinal teas. While he's working toward bigger things in the future, Moh knows that he's got a long way to go.
He's been working like crazy for months on end, and is thinking about hiring some help. With traffic at the restaurant increasing each week, Tamra is clearly doing something right. "Most people who come in once come in again," Moh observed. He's clearly inspired by his interactions with his customers, and is passionate about delivering quality food and a pleasant experience to everyone who visits.
He acknowledged the demanding schedule of owning and operating a small business, but showed no interest in slowing down. "I'm working hard now so that I can hopefully make the money I was making at 23 when I'm 33, but it's not all about the money," he said.