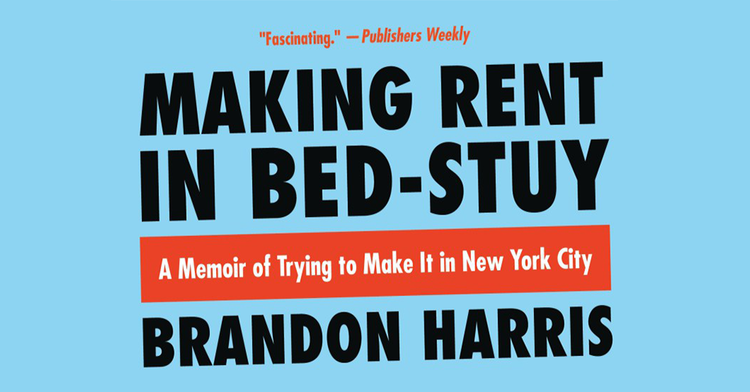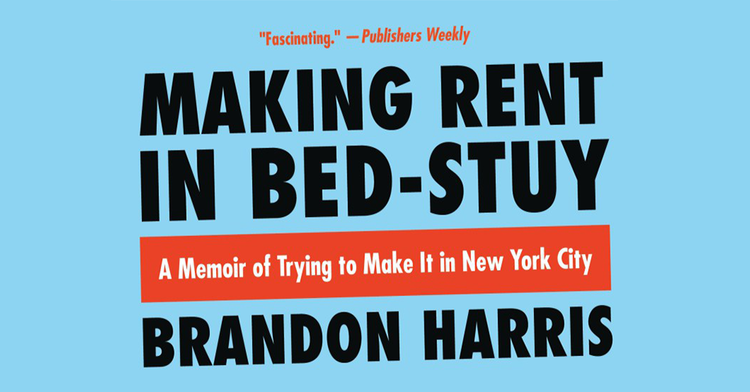 Brandon Harris is a self-described "high yellow Negro who weighs over two hundred pounds…[and] used to play offensive guard on a half-decent high school football team." He first moved to Bed-Stuy in the summer of 2004 unwittingly while in film school at SUNY Purchase. This began his tumultuous, discontinuous relationship with the historic Brooklyn neighborhood, all of which he chronicles in his memoir, Making Rent In Bed-Stuy.
Contrary to what the genre and title suggest, the book is not restricted to Harris's life in Bed-Stuy. Instead, Brandon intersperses his personal anecdotes with extensive film criticism, history lessons, and immense social and racial commentary. While it makes for a slightly denser read than a straight autobiography, Harris' approach also makes the book more powerful and meaningful. The book is most entertaining when Harris recounts experiences and memories of his time in Bed-Stuy, but its most salient moments occur in his large-scale analysis of gentrification and race in America.
The book follows Harris as he jumps from house to house in Bed-Stuy over more than a decade, with a new address for each chapter. As an aspiring filmmaker, Harris works several odd jobs to barely pay his rent. He works as an assistant at an independent production company paying him less than minimum wage, eventually being fired for working too often on his own projects instead of the company's. He later settles in as a freelance writer on food stamps, refusing to jeopardize his dream by getting a better job to pay the bills. Along the way, Harris introduces us to a number of characters and circumstances that all shed light on his struggles as a black gentrifier.
For example, Harris' first full-time roommate is Tony. Harris and Tony become friends as adolescents and grow as close as brothers. Tony comes from an extremely wealthy white family that subsidizes rent for Harris and Tony's first Bed-Stuy apartment. Despite their history, similar interests, and ambitions, Harris and Tony eventually grow apart and no longer talk. Because of their different circumstances—Harris ends up on food stamps and is endlessly driven to create art at any cost while Tony is content to sit around noodling on the guitar all day while his parents buy a building in Bed-Stuy for him to live in—they run out of things to talk about and it becomes uncomfortable to be around each other.
There's also Little G, Harris' pre-teen pot dealer from the Marcy projects across the street from his first Bed-Stuy apartment. He describes serious apprehension about buying from the kid, saying, "It was as if I were scooping buds from a skinny younger brother of mine, one that as an only child I had never had." Despite his inner-qualms, he was a poor pothead with few options, continuing, "I was so relieved to meet someone who would sell me nickels; Little G remained my primary pot dealer for much of that year."
Harris moves from place to place, eventually forming a group of friends and finding local hipster joints to hang out at, but he's never quite fully comfortable in his neighborhood. After nearly 10 years living in Bed-Stuy, Harris describes a walk he took to pick up some old pictures from one of his previous residences: "When an SUV slow-crawled not far away and then abruptly stopped in front of me, I crossed the street and walked a block down to DeKalb, having briefly feared a jacking." He doesn't feel comfortable among the neighborhood's gentrifiers, who are mostly white, and he doesn't feel comfortable among Bed-Stuy locals because he is a gentrifier himself. The book is built on this internal struggle.
The film and social criticism within the book contextualize Harris' experiences. To introduce Bed-Stuy to the reader, Harris provides a relatively comprehensive history of the neighborhood. Starting from its beginnings as "a place where black lives could flourish amid the economic boundaries that fenced its prospects inward" during the Great Migration in the mid-20th century, he outlines the neighborhood's amazing jazz scene during that time. He contrasts the jazz culture in Bed-Stuy with the emerging hip-hop scene in the 1980s, and uses several excerpts from Jay-Z's autobiography Decoded to describe Bed-Stuy during the crack epidemic. This provides tremendous depth to the neighborhood and accentuates the tensions that exist as the neighborhood gentrifies because of its rich history.
He dedicates nearly an entire chapter to the criticism of Brooklyn native Spike Lee's filmography and career. Harris appreciates and acknowledges the tremendous work Lee has done as a black filmmaker, but pulls no punches regarding Lee's later, more commercial works. In reference to his film Chi-Raq, Harris generalizes, "Since around the time the Twin Towers fell, the universe of Spike Lee's narrative movies has grown curious, one that requires the extended and uncomfortable suspension of disbelief."
The book also features an entire chapter on the gentrification of Cincinnati neighborhood Over-the-Rhine and another on Harris's experience reporting on a murder in a small, racially charged town in Holly Springs, Mississippi. These chapters allow for comparison to Bed-Stuy and demonstrate how widespread racial issues and gentrification are in the USA. Finally, they serve to show that no matter where Harris goes, he can't escape the difficulties he first experienced as the only black kid in his all white private school class. In this way, Making Rent In Bed-Stuy is about a black creative's search for fulfillment and comfort in a world where those things don't come easily to blacks, creatives, or anyone willing to open their eyes to the injustices all around them.